Indulge in Velvet Cloud's Dessert Flavors for A Sweet Vaping Experience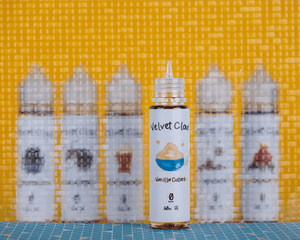 For artisan e liquids that have an ultra high VG base, Velvet Cloud is for you! We take great care in helping create some of the most mouthwatering VG e juices you can find. All of our ingredients are naturally-sourced and VG based, vegan, gluten-free, GMO-free, contain no artificial sweeteners or added coloring and are made from vegetable glycerin and distilled water, which is a premium base for high-quality vape juice. Because our flavors are so natural, we take pride in offering you a unique and tasty vaping experience. Our flavors range from fruit, classic tobacco, menthol, and dessert flavors, and are available in different sizes of 60ML bottles and 120ML bottles with varying nicotine options of 00MG, 03MG, 06MG, and 12MG.
Our VG juices are perfect for the new or seasoned vaper. With so many flavors to choose from, we are sure to have a flavor for everyone. Although our dessert e liquids contain no sugar, our dessert flavored options are so sweet you'll have your sugar cravings satisfied with just one hit. Choose from six different possibilities: Campfire, Frosted Gingerbread, Mewlew's Magic, Vanilla Custard, Night Shift, and Nutty Cookie.
Back by popular demand, our one of a kind 'Campfire' flavor is a fine mix of melted chocolate, toasted marshmallows, and crunchy graham crackers, making you feel as if you were sitting at a bonfire on a cool summer night. Known as one of our best e juices to date, our customers are beyond pleased with this Campfire flavor, comparing it to one of America's favorite treats: s'mores.
With the holiday season right around the corner, what better way to get in the holiday spirit than with our Frosted Gingerbread e juice? Nothing says holiday spirit more than a spicy gingerbread cookie topped with sweet frosting on top, and Velvet Cloud has managed to capture that delicious feel and flavor all in one e juice. This cinnamon sweetness will keep you warm and satisfied all season long.
Enjoy an amazing blend of chocolate, fudge, butterscotch, and cream all perfectly mixed into our Mewlew's Magic. This vape juice allows you to taste a sweet dessert flavor no matter the time of day, just vape whenever your sweet tooth is craving a tasty treat. With a rich, silky chocolate inhale and a cream and butterscotch exhale, this desert flavor will be your new favorite. Most of our customers find that the butterscotch flavor is the strongest, but we think that is a good thing. Once you take a hit of this amazing, unique, and sweet flavor, you'll understand why it's called magic.
An iconic flavor that everyone has probably tasted at some point in their life just got a whole lot easier to vape. Our signature Vanilla Custard is as classic as it gets. Creamy, sweet, light, and warm, this flavor is the perfect flavor for any time of day to give you a sweet vanilla fix on the go.
Coffee and donuts are notoriously known for going together. What if you could combine both sweet, rich, full-bodied, flavors into one vape juice? At Velvet Cloud, we have achieved just that with our delectable Night Shift e juice. Like the perfect breakfast or late night snack in one juice pod, Night Shift is best described as an "intriguing blend of rich, dark roast coffee and a semi-sweet chocolate glazed donut, topped with a hint of velvet cream." Mmm... does it get any better than that?
Wake up and get your coffee fix with one easy hit from your vape. This flavor has three main components which all help to make this e juice a satisfying treat. The coffee resembles a dark roast that is boldly packed into the juice pod. The chocolate donut is a glazed donut that is light, sweet, and just like any delicious donut and coffee pairing for the morning. The velvet cream on top provides a complex taste to complete the juice for the ultimate late night snack in your vape pen.
Our last flavor in the dessert flavors is the Nutty Cookie juice. Just like a freshly baked sugar cookie, this juice has hints of sugar cookie, macadamia nut, and hazelnut, as well as pralines and white chocolate. This flavor is perfect to satisfy any dessert craving any time of day and will taste just like grabbing a freshly baked cookie right out of the oven.
For more information on Velvet Cloud, our e juices, or our creation process, read our blog or reach out to us via email at info@velvetcloud.com. Order your Velvet Cloud e juice today and join our rewards program to receive updates and offers on our signature, artisan vape juices. You won't regret it because we love vaping and we love you!