5 Essential Vaping Tips for the Summer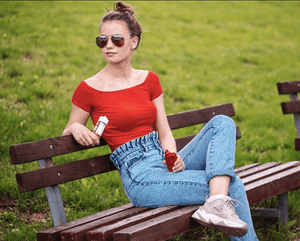 Now that summer is around the corner, we decided that it would be a good time to share some helpful vaping tips that can improve your overall vaping experience. After all, what's better than enjoying a new e-liquid flavor while lounging on a beautiful sandy beach or vaping during an outdoor summer concert with your friends? We've gathered some of the best-kept secrets for vaping during the summer below: 
Tip #1: Don't expose your vape juice and batteries to heat
The first tip is to never expose your e-liquids or batteries to heat for an extended period of time. This means you should avoid leaving your vape pen inside vehicles or any place that can reach very high temperatures during the summer. Your favorite vape juice can magically turn into a disgusting mess when it is exposed to temperatures over 100º F due to the heat breaking down its molecular structure. Intense heat can change the color and viscosity of your e-liquid which can cause it to eventually leak from the device. Besides ruining its taste and color, heat can also break down the nicotine inside your vape juice and cause your tank or atomizer to get clogged up. Unfortunately, once your e-liquid starts to degrade with the heat, there is no way for you to bring it back to life.
The batteries inside your vape pen can also be a hazard when it's exposed to very hot temperatures. Lithium ion batteries can explode and ruin your device or become damaged when exposed to direct heat. We recommend that you try to be careful about where you leave your vape pen and take out the batteries as an extra precaution or store them inside a protective battery cover.
Tip #2: Do some research before you start to travel this summer
Are you looking forward to a cruise or camping in the woods this summer? Or perhaps your idea of a summer vacation is flying to an exotic location? Regardless of your specific travel plans, try to do some research about whether vaping is allowed before you leave for your trip. For example, you can try to look up your airline carrier's rules about bringing e-cigarettes on board. If you are staying in an Airbnb rental, ask your host if they don't mind if you vape on their premises. You can also research the local vaping laws of your final destination and ask if vaping is allowed or banned. Planning ahead can allow you to relax during the trip because you've already thought about all the details beforehand so you could avoid any potential issues. 
Tip #3: Try to keep your vape pen away from water if possible
Try not to drop your vape pen in water. If you plan on going to the beach over the summer or want to swim laps in a pool, do your best to keep your vape pen dry and away from water. You can place it inside a plastic bag and seal it before you head out to the beach. Or you can store it in a small waterproof bag.
Tip #4: Bring extra batteries or your vape mod charger 
Another useful tip is to always bring extra batteries and a charger with you, especially if you know you are going to be traveling for a long period of time. That way you don't have to worry about your vaping session being cut short due to a low battery. We recommend that you keep the batteries in a separate pouch or component so they won't rub against one another. You should also bring extra vape juice flavors so you won't have to worry about running out of e-liquid during the vacation.
Tip #5: Only store your vape pen in a cool and dry place
Now that you know how important it is to avoid exposing your e-cigarette to heat and water, always be on the lookout for cool and dry places to store your vape pen. This handy tip can prevent your e-cigarette from overheating or malfunctioning. You can keep your vaping equipment in the trunk of the car or tucked away in a cooler inside a sealed plastic bag if you have to go on a long road trip. Although you shouldn't keep it in extremely cold temperatures too long since that can also break down the chemical components of the e-liquid. 
In Conclusion
We really hope our tips will improve your overall vaping experience this summer! Even if you just keep your vape pen away from liquid and intense heat you can avoid ruining your batteries and e-liquid. Store your vaping equipment in an area or pouch where it won't be exposed to the elements to keep it safe. You should. Also, bring a backup e-cigarette just in case the one you are using suddenly gets lost or starts to malfunction. After all, no one wants to run around trying to buy more vape supplies when you could be relaxing on vacation. Please check out previous blogs to learn more advice on how to fly with your vape pen or more tips on how to vape during a vacation.
Buy Premium High VG Vape Juice From Velvet Cloud  Today
Velvet Cloud specializes in offering premium high VG e-liquid to people from all over the world! Every single one of our custom flavors was developed in-house by our very own professional vapor chef Julie inside our Portland, Oregon facility. 
If you're searching for quality vape juice, look no further. We've just replenished some yummy flavors like Strawb Gwab and Peach Tea that are perfect for the summer. Additional blends that are great are the most popular flavors for hot weather with a high vapor production. One of the best parts about our vape juice products is that they are all vegan-friendly and don't have any harmful preservatives, GMOs, gluten, sweeteners, and coloring. Order today and take advantage of our quick next-day shipping!