What Kind of Vape Flavors Should You Start With?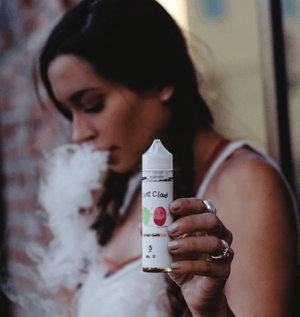 As the vaping trend spreads gleefully across the world, many people are considering trying e-liquid vaping for the very first time. Some have a friend who is clearly enjoying the vape lifestyle while others are drawn to the flashy pens and endless flavors. But no matter where you're coming from, every vaper has a first flavor. The taste of your very first puff of high-quality e-liquid will stay with you forever, and even shape your entire vape experience.
So whether you are planning your own introduction to vape or thinking of the perfect flavor for a friend, Velvet Cloud is here to help. What should your very first flavor be? Naturally, this will be different for each person. There's no perfect first flavor because everyone's tastes are different. Even your best friend's ideal first flavor will be different from your own. And that's grand.
So today, we're here to help you figure out what your first flavor should be. And after that, what kind of flavors you might want to try out!
Fruity: You Could Sip Fruity Drinks All Day
You are a carefree person who loves the tastes of a fruity drink. You have probably loved fruit juice all your life and desserts that feature strong fruit themes like strawberry shortcake or pineapple upsidedown cake. If you had to go on a diet, you'd rather one that lets you eat nothing but fruit. Out with friends, you love a fruity cocktail or daiquiri. And you always get the strawberry syrup drizzle on your cheesecake dessert. 
If this sounds anything like you, then your first vape flavor should definitely be fruity. Among the most popular flavors in all of vape-land are the fruit flavors. Pretty much everyone enjoys the light, sweet taste of a fruity e-liquid and there are dozens of fruit flavors to choose from. Apples and strawberries, blackberries and bananas.
For our first flavor, Pick your favorite fruits in an appealing combination. Like our Strawb-Gawb, a smooth strawberry guava mix. Or, if you love the tangy mix of berry flavors, our Harvest Berry will hit the spot.
Menthol: You Like to Pop Peppermints
You love that cool taste of peppermint in your mouth. During the holiday season, you always know where to find a stash of candy canes. And your favorite hotels are the ones that actually still leave mints on the pillow. You enjoy minty chewing gum, mint toothpaste, and Thin Mint girl scout cookies. And there are never any mints left in your Halloween candy stash when you're done with it.
If this fan of minty freshness sounds like you, then we've got great news: You tastes are well catered to in the vape community. Menthol flavors are a big part of the overall flavor selection, with a wide variety of minty options. From pure spearmint to minty chocolate, these vape flavors are guaranteed to clear your sinuses and give you that wonderful mint flavor in your nose and mouth all day long.
For your first vape experience, look into mellow mint flavors mixed with your favorite secondary flavors like strawberry, lemon, or eucalyptus. And if you love mint of many flavors, our Mt Shasta will cool your taste buds like never before.
Tobacco: You Love the Taste of Smoky Tobacco
You have always loved an aspect of smoking lost to the general public: The warm smoky taste of well-cured tobacco. You have a favorite brand of cigarette, cigar, or possibly even roll your own smokes. Or you did once and still miss the smell and flavor of fresh tobacco. You enjoy the smell of a smoke shop and love to roll delicious tobacco smoke around in your mouth. And you're wondering what vape has to offer a tobacco-lover like yourself.
If this smoke-aficionado sounds like you, then you can rest assured that flavor masters saw you coming. Many people have come to vape from smoking because, as delicious as it may be, smoking has its downsides. Not only can you get a fine-tuned dose of nicotine from vaping, you can also find a wide selection of warm, smoky flavors that were designed to satisfy the palettes of discerning ex-smokers.
Choosing your first e-juice flavor, look for options that market themselves as tobacco flavors. Not just those that contain nicotine. You can get a pure rich tobacco flavor like Burly Beard or a sweet dessert mix like our White Beard or Blue Beard flavors of e-liquid.
Coffee: You're a Barista's Best Friend
You could not live a day in your life without coffee. And not just because of the caffeine kick. You love the flavor and have tried many different flavored coffees to find the best. You probably grind your own beans or, if you don't, it's only because you practically live in a coffee shop hanging out with your favorite baristas. You've tried coffee from all over the world, have custom coffee mugs, and even enjoy coffee-flavored desserts. 
And if this sounds like you, then we've got just the flavors. Coffee lovers must be strongly represented in the vape community because everywhere you go are more delicious coffee-tinged options. Coffee and chocolate doughnuts, coffee and sugar cookies, coffee and crumble cake. The list goes on and goodness knows, any coffee lover can find an e-liquid to tickle their taste palettes.
If you know your favorite flavor of coffee or favorite coffee-related dessert, then you're already most of the way to finding your ideal first flavor. Simply follow your coffee-loving instincts and you'll bound to be delighted. We have a coffee favorite, the dark coffee and glazed chocolate doughnut flavor of Night Shift. You know what we're talking about.
Desserts: You Have an Insatiable Sweet Tooth
When it comes to dessert, you just can't get enough. Even if you're good at stopping after one portion, every single dessert catches your eye and sounds delicious. You want the custards and pies. The cakes and cookies. Cheesecakes, tarts, doughnuts, and milkshakes. Nearly every dessert in the world sounds amazing. And you want to try them all.
If this insatiable sweet tooth is your life, then there's good news in your future. Vape flavors are the perfect way to taste all your favorite desserts (including the ones you hadn't thought of but sound awesome) without actually adding any calories. For the sweet-tooth, vaping can tickle your sugary cravings and give you a delightful taste of dozens of flavors. And you can mix your own combinations at home. Unlike with cake.
Finding your first flavor might be hard, but only because there are so many great options to choose from. Pick a few of your favorite flavors and you're bound to find the ideal combination. At Velvet Cloud, we admit to our unstoppable love of sweets.
For a chocolate hit that can't be beaten, try Mewlew's Magic. For a more complex kick, Nutty Cookie is a favorite home recipe. Or for a pure sweet experience, try Vanilla Custard. We love them all.
Special Treat: You Have a Number One Favorite Dessert
You have one favorite flavor in the entire world. A dessert you ask for every year on your birthday, a special treat you buy at the grocery store and eat lovingly one by one. Or even something you only get because it's a seasonal dessert made once or twice a year. And you crave that flavor like zombies crave brains. Dream of the day you can taste it, and hold back your desire to indulge more often than you do.
If you have one ideal flavor, particularly a dessert, then vaping could be the answer to your constant cravings. All you have to do is find (or mix your own!) e-juice flavor that completely simulates your number one favorite dessert. And trust us, this is absolutely possible. Whether it's tres leches cake, gingerbread cookies, or the key lime pie your grandmother only makes for new years, you can vape it!
To find your perfect first vape, go on a quest to find a flavor that matches your top favorite dessert. If it's a real match, you can joyfully vape the flavor you crave all year long. Here at Velvet Cloud, we're sporting Campfire to sate our cravings for ever more S'mores and Frosted Gingerbread, because who's ever done with gingerbread cookies?
---
Choosing the perfect e-liquid flavor for your very first vape is a big decision. But it's also not something you need to worry about. There are so many delicious flavors out there that your favorites are bound to be in the mix. Follow your heart, your nose, and your flavorful personality to the right place. And remember, you can always expand from there. Including little tasters to find out what you love when there are too many options to choose from.
For more great vape tips from the big-cloud pros, contact us today!