What Are Vegan-Friendly E-Liquids and Why Do They Matter?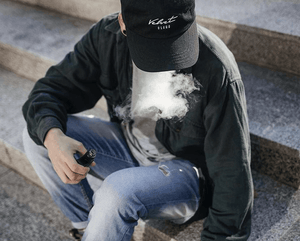 Everybody vapes for a different reason. Maybe it's your alternative to cigarettes loaded with chemicals. Maybe it's your favorite way to unwind after a long day. Maybe it's a social thing that all of your friends do, too. Or maybe you just like the flavor.
Whatever your reason for treating yourself to a delicious and luxurious vape experience, we believe it should always be a positive, guilt-free, and uplifting hobby. That's why Velvet Cloud works so hard to make our e-liquids of the highest quality with the least amount of negative impact. We know that customers value ethically-produced products, and we're proud to share those values. That's why our e-liquids are cruelty-free and vegan. 
It's important to make a positive impact. Here's how we do that:
What are Vegan E-Liquids? And Why Use Them?
Vegan e-liquids are special in that they don't contain any animal products whatsoever. Instead, our juices are made with natural, plant-based materials that still convey an incredible flavor. 
Why do we choose to leave animal byproducts our of our liquids? Well, everyone has their own approach to consuming animal products on their own time, and we respect everyone's personal decision. But when it comes to e-liquids, there's no need to incorporate dairy products at any stage. Unless we're specifically marketing a product that has a honey or a cream flavor, we prefer to use our own unique and natural ways to highlight an amazing flavor. Here are some reasons why using vegan e-liquids is important:
Leaving dairy out means that people who are sensitive to dairy or lactose-intolerant can still enjoy these products.
Avoiding dairy products is important for many people who have ethical concerns to consuming animal products, and we respect that.
Making more vegan choices has been called "the single biggest way" to reduce your environmental footprint.
Let's be honest: do you really love the idea of vaping animal products? The plant-based vaping experience is cleaner and more enjoyable.
Why Cruelty-Free?
Every year, an estimated 115 million animals are used in animal testing, with the United States being among the countries that does the most animal testing for products. We take pride in the fact that we're not part of that statistic. 
Even the most carnivorous among us can probably agree that using products tested on animals is not the greatest for peace of mind, which is why Velvet Cloud's products are cruelty-free. Aside from the practice of animal testing not resonating with our principles, the majority of products that have to be tested on animals before being approved for human use are chemical-laden anyway. We try to use ingredients that are as natural as possible, so not only do we avoid animal testing—but based on our ingredients, we wouldn't need it anyway.
Ingredients Matter
To create the best-possible E-liquids for our customers, we choose the best in ingredients. So not only do we make sure that our products are vegan and cruelty-free, but we also use a plant-based liquid base and we don't add a bunch of synthetic additives.
Propylene Glycol vs. Vegetable Glycerine
There are two different liquids that E-liquid products can use in their processing: either vegetable glycerin (VG) or propylene glycol (PG). In keeping with our commitment to ethical practices, we use VG in our products. Although neither of them is animal-based—VG comes from natural plant oils and propylene glycol comes from petroleum —we believe that using products from natural plant sources aligns better with our philosophy as a business. Why increase our environmental footprint by using petrochemicals when we can turn to natural plant oils instead for a superior juice experience? (Plus, we don't love the fact that propylene glycol is dangerous to animals and has been banned from cat food as a result!)
Our vegetable glycerin based juice has a sweet and lush flavor, making it so that we don't have to add harsh artificial flavors to give you the best vaping experience possible. Although many companies go with PG, we think that VG provides a much better experience to its naturally pleasant flavor and its delectable thickness.
Free from Synthetic Stuff
We also try to make your vaping experience as natural and guilt-free as possible by avoiding unnecessary ingredients like artificial coloring or diacetyl. What's diacetyl, you ask? It's a chemical that gives an artificial butter flavor to products, and it's been linked to respiratory distress in studies. Why would we include that in the e-liquid we sell to you? We like our values to speak for themselves, so we ensure our products are:
GMO-free.
Gluten Free.
Artificial sweetener and sugar-free.
Preservative Free.
Diacetyl and artificial-color free.
We truly think that ingredients matter, which is why we work as hard as possible to bring you ingredients that are natural, organic, and plant-based. That way, you can enjoy your vaping experience without worrying about the product you're inhaling. And you can feel good knowing that your purchase supports good choices in ingredient sourcing. 
Charitable Organizations are Important to Us
It's important to us to provide products that are cruelty-free, vegan, and as natural as possible so that all of our customers (vegan or not) can feel good while they're enjoying our e-liquids. Part of our goal is to go beyond just having ethical ingredients and try to make a positive impact in the world at large. That's why we choose to donate a portion of our proceeds to different charitable organizations. Our favorites charitable causes are those that help animals, like wildlife organizations and animal rescue groups. 
So every time you make a purchase from us, you can feel great knowing a portion of our proceeds goes towards making the world a better and kinder place. 
It's Easy to Make the Right Choice with Velvet Cloud
We're all about giving our customers choices: fruity flavors, coffee flavors, plain flavors, and dessert flavors. But we don't want our customers to have to make difficult choices when it comes to quality. 
Whatever your reasons are for vaping—relaxation, socializing, taste—we're here to ensure that you have an above-average product that always makes you feel like you're making the right decision. That's why we spend so much time developing the amazing taste of our juices while also prioritizing that our ingredients are vegan, cruelty-free, and as natural as possible. Visit our shop to discover your new favorite flavor!