Strive for Better Quality Juice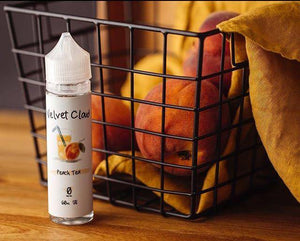 Imagine if Star Wars ended with a compromise. A totalitarian empire vows to destroy any freedom left in the galaxy and a noble Jedi decides to barter for slightly more freedom in a fringe effort to gain tax exempt status for the Jedi council. Wait, no. That doesn't sound right. It's almost like compromise ruins the story line and sacrifices your true desires for lesser ones? Well, that's because, with anything important, compromise is often unnecessary. That also goes for the quality of your products. When you're purchasing a sword (topical, right?) you want metal, not plastic. How else will you defend the queen? Well, the same goes with vape juice. Are you understanding these metaphors? No? Well, let's dial it down a notch with some cold hard facts: Velvet Cloud uses the best VG Juice around, and that means we offer the highest quality vape juice. We're the premium steel swords of vape juice, and your metaphorical vape queen will be safe with our products in your hands. There! Who said we couldn't write an effective advertisement that references both Star Wars and swords? Sweet.
What is VG Juice?
So, Star Wars and swords aside, what does VG vape juice mean to you? Well, if you're constantly vaping, it's a term that you should definitely become familiar with! VG liquid is volumes better than PG, but we'll let the facts speak for themselves. Both act as a base that carries the nicotine and flavor in your vape juice and, while PG is typically more popular, VG is a thicker, sweeter base that allows for much denser clouds of vapor. For those that prefer flavor, PG is often the choice because it is known for producing stronger flavors. However, at Velvet Cloud, we offer the best VG juice there is. In fact, we've built our following through the sheer quality of our e juice, and we're very proud to say that you won't find more flavorful VG juice on this site, let alone cooler flavors on any other site. For those of you who love your clouds thick and your flavor delicious, we've got your back.
What Flavors Does Velvet Cloud Offer?
When it comes down to it, we want everyone who comes to Velvet Cloud to have a well-rounded vaping experience and leave with an e juice that suits them best. That's why we went hard, thought hard, and celebrated hard when we created all of our incredible flavors, made from the best VG juice. We're constantly adding to our selection, and we already have so many different excellent flavors to choose from. No flavor makes our list without rigorous experimentation, and we don't allow anything on our site that doesn't meet our high standards. You'll find the most interesting, the most scrumptious, and the coolest named flavors right on Velvet Cloud.
Do you like dessert? Some people lose their sweet tooth as they grow older, but that just means more cake for the rest of us. When you browse our selection, you'll notice some super interesting dessert flavors. We didn't want to settle for the trite stuff that our competitors are still making, and we didn't want to leave any of our fans hanging with something boring, so we decided to put our minds to it. Why have a donut without some delicious coffee? Our Night Shift flavor gives you both, and the combination is nothing short of divine!
How about fruity flavors? Strawberry Kiwi is a consistent flavor in vape companies, and we're sick of people thinking Strawberry doesn't have any other friends. That's why we created the all mighty Strawb-Gwab, a strawberry guava juice that brings the full flavor of guava to the tart flavor of strawberry. Great flavors don't stem from simple concepts, and you won't find anything "simple" on our site. We strive to create e juices that you won't find anywhere else; that's what makes Velvet Cloud the best.
How about tobacco flavors? That's right; those of you that really love the savory flavors are going to have a party tonight. With our Tobacco Trio, you can test all three of our delicious tobacco infused flavors. These flavors are robust, elegant, and designed to really bring you back to that smoke shop that you love most. No matter what flavor you're looking for, you'll find the best version of it on Velvet Cloud.
Visit Us Today
We're always excited to help our customers find what they need, so please feel free to contact us with flavor suggestions or questions about our existing products. Nothing makes us happier than a customer experience gone right, and we'll do what we can to make sure that happens! When you try a Velvet Cloud juice, you'll see what the hype is about. We put a lot of heart into our products, so we're always eager to see what you think! Come on down today, and let's see what Velvet Cloud can do for you!
P.S. We do not sell swords.