A Complete Tour of Velvet Cloud's Summer E-Liquid Flavors for 2019 - Pt 1 (Fruits & Mint)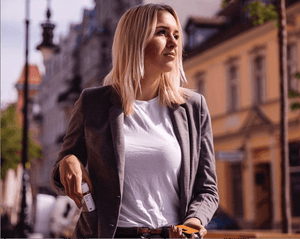 Aaaaaaahhh, summer. It's finally here. You can already feel the warm breeze blowing through your hair; feel the 75-degree pool water cooling your feet. Maybe you'll get a big straw hat, maybe you'll take an epic road trip. But there's one thing we know for sure about every vaper in the world this summer: You're gonna be blowing some mad summer clouds.
After all, who can resist sipping on sweet-tasting e-liquid during the dog days of summer? And to celebrate the perfect season for vaping, Velvet Cloud is bringing you the top end of flavor and quality with our cultivated collection of artisan max-VG flavors. This article will take you on a tasty tour -- a puff perusal if you will -- of our premium summer stock. Please, take a moment to relax and enjoy the march of flavors until you spot the perfect tempting e-liquid to grace your summer vape rig.
Let's dive right into the fruit bowl with our first category of flavors:
Your Fruity Summer Selection
There's nothing like a light fruity vape on a summer's day. Velvet Cloud is proud to present a wide variety of fruity flavors for those with a specific sweet tooth and vapers who want to mix their own unique fruit punch blend. Fruity flavors are the epitome of summer relaxation, reminding us of cold slices of mild melon, iced drinks, and intense fruity punch. And we've got a little bit of everything for your summer vaping pleasure.
Catherine the Grape
You don't have to sip wine to enjoy the most imperial of grape flavors by the pool or in the spa this summer. If you've ever enjoyed a thick, tart glass of dark purple grape juice on a summer's day, you know exactly what Catherine the Grape e-liquid has in store. This imperial vape flavor features the rich bouquet of pinot noir grapes with a hint of black currant.
Harvest Berry
Love the fruity blend of a perfectly balanced fruit salad or a potent fruity punch. Then Harvest Berry is the ideal flavor to start with. Our berry-licious e-liquid is balanced to perfectly sate your craving for all your favorite summertime fruits. This light yet potent fruity e-liquid features strawberries, blueberries, and raspberries infused into the highest quality max VG e-liquid for your vaping pleasure.
Strawb-Gwab
Looking for something both classic and exotic at the same time? Summer is the best time to experiment with fruity flavors and VC's Strawb-Gwab is the perfect home-run for familiar and awesomely new. A deliciously mild blend of strawberry and guava gives you that beautiful flavor of an iced fruity drink in a place you've never heard of before under shaggy thatch umbrellas. Sip these clouds by the pool and let the exotic luxury carry you away to that island paradise. Dark-eyed beauties in bikinis optional.
Melonomenon
Ba dee bedebe! *Melonomenon* Ba debe dee!
Once you try this incredibly smooth melon mix, you and your friends won't be able to stop singing the manamana chorus while you vape. Because this melon punch truly is an incredible vape phenomenon. Blended with a hint of peach and cucumber for an awesome sweet-smooth flavor, you'll be vaping in shades by the pool in no time. While your friends bounce around 'do-doo-ing' every time they see the bottle.
Pandamonium
If summer means gummy-treats to you, then Pandamonium is your summer jam. Do you ever miss those incredibly tangy white gummy bears that you would always eat out of a pack? That is exactly the panda-bear we are talking about. Pandamonium is an intensely tangy blend of pineapple, citrus, and whatever makes a gummy bear taste 'gummy'. With no cream to cut the flavor, each puff will fill your summer-parched mouth with a rolling weather system of tangy delight.
Peach Tea
Then there's the undeniable summer classic: Peach Tea. Who can go an entire summer without at least one tall icy glass of perfectly peach-flavored ice tea? We know we can't. There's something essential about putting on your wide straw hat and setting up in your favorite summer chair to sip peach tea and watch the world go by. So we made it an e-liquid you can puff all summer long! Our Peach Tea flavor combines the rich fruitiness of ripe peaches with the wonderful contrast of classic black tea for an aromatic vape that can't be beat.
Gotta Have That Mint
For vapers who love menthol flavors, it's impossible to pass off anything but the real McCoy. That's why Velvet Cloud has dedicated our flavor artisanry to designing the perfect one-hit-wonder mint flavor to perfectly hit the spot this toasty summer with a cool menthol blast. With the highest quality max VG e-liquid and plenty of long summer hours to kill, there's no excuse for passing on this chilling and richly flavored mint experience at the peak of....
Mt. Shasta Frost
In the hot summer sun, there is no better way to cool down than with the perfect minty menthol vape. When you're looking for top-caliber minty clouds, look no further than our VC special Mt Shasta Frost. Named after our very own nearby mountain, we bring the icy chill of the mountain peak right to your mouth this summer. Knock your own socks off with a tasty blend of peppermint, spearmint, and menthol. Even your friends who never dug menthol before will be clamoring to taste your vape and take themselves into a cool icy paradise in the middle of the hot hot summer.
-------
Of course, you don't actually think that we'd leave the flavors at that, do you? Where's the chocolate? Where's the tobacco? Fear not, gentle vapers! This is yet the first half of the full roster of delicious summer flavors that Velvet Cloud has to offer. Our team of flavor artisans has slaved day and night to put together an incredible (and complete) collection of e-liquid flavors to delight and amaze you during the hottest days of the year. Join us next time for the second half of this two-part summary of our entire summer flavor selection.