Why You Should Buy Vaping Supplies Online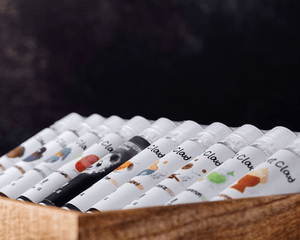 Almost everyone has visited their local vape store at least once or twice to check out their selection of products or make a last minute purchase. Although you may have fun shopping there, in the beginning, the novelty will wear off eventually. That's why many people in the vaping community decide to shop at online stores. Here are several ways you can benefit from buying your e-liquid and other vaping supplies online.
Online Stores Have Greater Product Variety than Traditional Retail Stores
Your neighborhood vape store can only hold so many items due to the physical limitations of their store. On the other hand, you can easily get overwhelmed with the vast array of product choices available in online stores. And you'll never have to worry about an item being out of stock because you can always go to another website. It's never been easier to try a different e-juice flavor or buy a new vape pen.
Online Stores Usually Have More Affordable Prices Than A Local Vape Shop
Another reason people prefer to shop online instead of traditional brick and mortar vape stores is that it's usually more affordable. You can also do a quick search and compare prices from hundreds of different vendors online. The neighborhood vape store is more expensive because they have to cover the building's lease, employee salary, utilities and other expenses tied to their retail location. Since online stores have less overhead, they can pass these additional savings right down to the consumer.
You Can Check Out Online Customer Reviews Before You Decide to Make A Purchase
Did you recently consider buying a new product but decided to change your mind at the last minute because you were not fully confident that you would like it? Now you can use online customer reviews to gain valuable insight and make an informed decision. Velvet Cloud shares our verified customer reviews on each product page so you can get an idea of what our premium e-liquid tastes like before you make a purchase.
Online Stores Provide Discretion and Anonymity
Do you have any nosy family members or friends that disapprove of the fact that you vape? Or perhaps you are just a private person who doesn't want everyone to see you going into the neighborhood vape store? Online stores allow you to shop from the privacy of your own home as much as you like without having to worry about what anyone thinks. Regardless of your reasons, online stores are a safe place that can provide discretion and anonymity to anyone with an internet connection.
You Can Sign Up and Get Notified About Upcoming Sales and Promotions
Another advantage of shopping at online vape stores is that you can get even more deals and discounts. All you have to do is sign up for the company's email list so you can get the latest news about upcoming sales and promotions. Some vape stores even offer volume discounts or loyalty programs when you buy frequently or reach a certain dollar amount in the checkout cart.
Online Stores Save You From Being Hassled or Pressured By Salespeople
You will never have to worry about pushy salespeople again once you start spending more time shopping at online stores versus local vape shops. Online stores give you the freedom to browse at your leisure and only buy something when it's on your own terms. And if you happen to have a question about something you can always contact customer service by shooting them a quick email, calling them on the phone or chatting with them online.
Online Stores Are Convenient and Always Open 24/7
Brick-and-mortar vape stores are usually only open for business for certain time periods during the day. This can be a hassle if you have a busy work schedule and don't have the time or energy to go there in person to buy your vaping supplies. In comparison, online stores are open 24 hours a day so you can always shop at your own convenience whenever you want.
Online Stores Offer Fast Shipping and Product Returns Process 
Another benefit of online shopping is that you can usually get your products in just a couple of days. Due to the rise of e-commerce giants like Amazon, many online companies have started to offer customers free shipping and very fast shipping options so they can get their products sooner. For example, we ship our products from our Portland warehouse Monday through Friday so your order will usually arrive on your doorstep in a couple of days. Years ago the returns process used to be a hassle for many online stores until they streamlined their process and made it more simple for customers. Now you can quickly and easily return any products that you don't like or need.
Online Stores Give You the Opportunity to Join an Online Community
If you have a favorite online vape store, chances are there are other vaping enthusiasts out there just like you who also enjoy shopping there. Simply go to the store's Facebook or Instagram page and join the community by interacting with their followers. They can be an additional support system that you can go to if you have any questions or need something.
Buy Premium Artisanal Vape Juice in Our Online Store
If you haven't done so already, now is the time to check out our online shop. At Velvet Cloud, we're proud to offer some of the best original e-liquid online. Each of our premium high VG e-liquids are unique and made with premium ingredients. Our e-juice is done right, meaning it has an all natural VG base, with no added coloring or artificial sweeteners. Every flavor is sugar-free, GMO-free and gluten-free.
Our home base is in Portland, Oregon which is where we also make our small batches of e-juice flavors in a certified lab. Since we make our e-juice flavors in-house we can ensure it is always at the highest quality. Regardless if you are craving for our sweet Nuttie Cookie flavor or minty Mt. Shasta Frost, you can find whatever you need in our online store.