VG Liquid You Need to Come By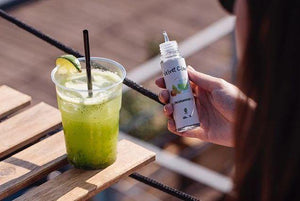 With the growing popularity of portable vaporizers, it can sometimes be overwhelming to choose the proper e-liquid. With so many choices on the market, you want to be sure you are getting something not only good for you and your needs but good for the world as a whole. Here at Velvet Cloud, we have a wonderful selection of quality vape e-liquid products and we pride ourselves on providing our customers with premium VG liquid available in a variety of different flavors for every type of person.
One of the biggest attractions to using our pure VG liquid is the wide varieties of flavors to choose from. Whether you prefer something sweet or something with a more traditional menthol flavor, we have flavors everyone can enjoy. With names like Mewlew's Magic, Frosted Gingerbread, and Catherine the Grape, you cannot help but want to taste them for yourself. The ingredients and recipes are tried and true and based off of traditional recipes in an effort to give you the best possible product we can offer. One of the most popular e-liquids we offer is our unflavored option. If you are interested in a flavorless taste for your vaporizer or if you are interested in creating your own custom flavors, our unflavored e-liquid is a great choice! Some of our featured products are our hand selected variety packs, affectionately named the Treasured Trio and the Tobacco Trio. If you are interested in trying out different flavors to see which one will become your new favorite, a variety pack like one of these might be a good choice.
At Velvet Cloud, we also pride ourselves on the fact that we care about the ethics of our company. What started out as a small company to serve the San Francisco Bay area with high quality artisanal VG e-liquid became a brand that has grown exponentially to many corners of the world. Our founders wanted to bring an e-liquid into the neighborhood that they felt was missing and needed, and they produced it in a way that was not only well-made but also affordable and accessible to the community. At Velvet Cloud, we make our VG liquid in small batches to ensure that every individual bottle is made to our specific standards. All of our products are vegan, which not only means there are no animal products in the juice itself, but they were never tested on animals and are cruelty-free. We donate a portion of our sales to various charities that we care about, such as animal rights groups and wildlife sanctuaries. We are always willing to hear about new charities offered to us by our customers; not only do we want to give back but we also want to contribute to the organizations that matter to you, the consumer. We very clearly care about how and where we get our materials, which means you can feel good about buying and using our products.
One big concern people may have when using e-juice is whether or not it is good to put into our bodies. In all of our e-liquids, we use top quality ingredients made in small batches in an IS07 certified lab in order to ensure the quality of our VG liquid. We use a VG base with natural ingredients and do not use any sweeteners, sugars, or added coloring. Our products are also free of gluten, preservatives, dairy products, and GMOs. As a small, local business, we care about how our products are affecting our customers, and we make sure to have "nothing weird" in our e-juice. We use pure VG liquid as opposed to PG liquid, otherwise known as Propylene Glycol. This is in an effort to help combat the most common allergic reactions associated with PG liquid, as well as minimizing the chance of other negative side effects such as headaches, scratchy throats, and nausea. Simply put, our VG based e-liquid offers a much cleaner vaping experience than many other PG-based e-liquid brands. Our unflavored e-liquid, specifically, is made using 100% pure USP Vegetable Glycerine, distilled water, and if you chose to have it, nicotine.
For those who prefer to choose their own level of nicotine, we offer a sliding scale of nicotine products ranging from 00 MG to 12 MG. With so many options of e-juice to choose from, we can guarantee that each and every individual will be able to find something they love at Velvet Cloud. As a leading premium artisanal vape juice company in the vaping industry, our dedication to providing the best VG liquid shows just how much we care about our customers and our products. We focus on creating things that are not only fun to use but taste extremely good as well. Check our products today!