Velvet Cloud: A Dedicated Flavor House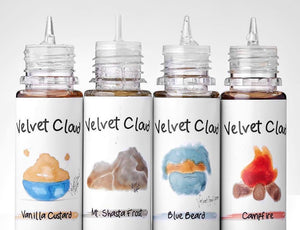 Hey there! We're Velvet Cloud. If you haven't already heard of us, now's your chance. In 2011, our founders created Velvet Cloud to bring unique, one-of-a-kind e-liquid tastes to the San Francisco Bay area. We know, we know, there are so many e-liquid brands out there. Why should you choose Velvet Cloud? Well, I'll tell you why. Not only did we want to introduce unique and great-tasting e-liquid flavors to the vaping world, but we wanted to offer our followers a high VG-based e-liquid that is vegan, has no added coloring, no artificial sweeteners, is sugar-free, GMO-free, and gluten-free. Wow! You might be thinking, Did I read that right? Why, yes. Yes, you did. By purchasing your e-liquid from Velvet Cloud, you're getting e-liquid done right! Our e-juice is made from the best sourced ingredients around and made in certified ISO 7 cleanrooms! We know that some people have allergic reactions to PG-based e-liquids and that's why our e-juices are exclusively VG-based. We want to please our customers and we believe we're doing just that! Just read our reviews!
Our Vapor Chefs
Before you head on over to our website, let me tell you a little bit about who makes our e-liquid. No, we're not just sitting in a room brewing and mixing our favorite flavors to see what kind of concoctions we come up with. If we were doing that, you'd probably get boring and bland flavors that aren't up to par with what you're expecting from an e-juice company like us. Instead, we've got literal chef's sitting in our ISO 7 cleanrooms creating the most mouthwatering, flavorsome, saporous e-liquid you've ever tasted! Don't believe us? Give it a try yourself. Have we piqued your interest? We hope so. And if not, we're sure this next section of our blog post will have you jumping over to our website to get your very own e-juices today!
Our Flavors
With our unique, complex, elaborate flavors, you get choices from dessert flavored eliquid, fruit flavored eliquid, tobacco and menthol flavored eliquid, and even unflavored for those picky vapers out there. (We like to include everyone here at Velvet Cloud). Our eliquid comes in either a 60 ML bottle or a 120 ML bottle with nicotine level choices from 0 MG to 12 MG.
For those who love their desserts, we've got 'Campfire,' 'Frosted Gingerbread,' 'Mewlew's Magic,' 'Vanilla Custard,' 'Night Shift,' and 'Nutty Cookie.'
For those who love their fruits, we've got 'Catherine the Grape,' 'Harvest Berry,' 'Melonomenon,' 'Pandamonium,' 'Peach Tea,' 'Strawb-Gwab,' and 'Summer Sweet.'
For our tobacco and menthol lovers, we've got 'Blue Beard,' 'Burley Beard,' 'Mt. Shasta Frost,' and 'White Beard.'
And let's not forget our picky vapers. We've got something you'll really love! Our unflavored e-juice comes in a 120 ML glass bottle and can be vaped as is on its own or customized, by you, to fit your taste buds. Simply add your own flavorings and create your own unique concoction that is just for you! Now how great is that?
Dessert Flavored Eliquid
If you've got a sweet tooth, we've got your back. Love camping? You'll want our 'Campfire' e-juice flavored with toasted marshmallow, graham crackers, and chocolate. Feel like you're on a camping trip all year long with this e-juice!
Love the beach? What goes better with sunshine and seawater than 'Mewlew's Magic' flavored with chocolate, fudge, and butterscotch. Yum!
Christmas time? Thanksgiving? Our 'Frosted Gingerbread' e-juice flavored with gingerbread, cookie, and frosting will leave your mouth watering for more!
My personal favorite? 'Nutty Cookie.' This delicious e-juice is flavored with sugar cookie, macadamia nut, hazelnut, and white chocolate! It basically combines all of my favorite cookies into one! What more could you ask for? Well, we've actually got more. Just check out our dessert flavored eliquid and choose your favorite today!
Fruit Flavored Eliquid
Oh, sweet, sweet summer. Sandy beaches, shorts and dresses, sandals, bikes, you name it! With that summer heat comes outdoor fun in the sun and what better way to complement that fun than with fruit flavored eliquid.
Beat that heat with 'Summer Sweet.' This tasty e-juice is flavored with cooling raspberry lemonade, sweet tea, and watermelon. All your favorite summertime hydration packed into one little bottle.
Summer nights spent lounging in the yard should be complemented with our 'Catherine the Grape' flavored with the a sweet pinot noir grape, berry and black currant. Pair it with wine nights and you're golden!
Need more to settle your desires? Check out our other fruit flavored eliquid today!
Tobacco and Menthol Eliquid
For those who want to keep the taste of tobacco and menthol in their vaping sessions, we've got the best flavors around! Not only do you get fine tobacco and/or menthol taste, but you get it with a rich assortment of flavors too!
Now I dare you to tell me you're not a fan of Velvet Cloud after reading this blog. Or, maybe you got too excited to finish and went straight on over to our website to get your very own Velvet Cloud juices! Whatever the case, we welcome you to our "private" club and hope you bring others on board! Vape Velvet Cloud, vape heavenly today!