How to Travel Home for the Holidays with Your E-Cigarette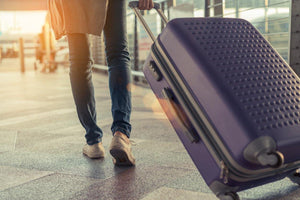 Are you getting ready to see your family and loved ones this upcoming holiday season? If you're anything like us, you're probably trying to figure out how to bring your e-cigarette and favorite premium high VG e-liquid along during your upcoming vacation.
It's always good to be cautious about vaping when you are traveling, especially since federal and state laws are always changing. The United States Food and Drugs Administration (FDA) passed several regulations recently that now group e-cigarette products in the same category as tobacco products. As a result, many states have passed laws banning people from vaping indoors.
Due to these restrictions, you may have to do some careful planning before you attempt to travel with your vape pen or e-cigarette device - especially if you want to leave the country. Read on to discover some of our best advice and tips on how to safely travel home for the holidays with your e-juice and e-cigarette.
Look Up Your Airport's Specific Rules About Vaping
Do you think you'll be tempted to vape at the airport before your trip? Be careful! Vaping is illegal in several major airports in the United States including the Los Angeles International Airport and the San Francisco International Airport. Luckily there are some vape friendly airports located throughout the country, like the ones located in Miami, Florida and Phoenix, Arizona.
As a general precaution, we recommend that you look up the airport's specific rules about vaping before you decide to pull out your e-cigarette so you won't get in trouble with airport security.
Find Out if You Can Bring E-cigarettes On Your Flight
It's no secret that airports have beefed up their security measures over the years. Although these preventions can make it safer to fly, it can also make it harder for you to get past the security check gate.
The Federal Aviation Authority (FAA) has prohibited e-cigarettes and other vaping devices from being transported in checked bags because of safety risks.  The batteries inside e-cigarettes can possibly self-ignite and cause a fire due to changing air pressure. Luckily, many airlines will allow you to bring vaporizers, atomizers, e-cigarettes, vape pens and e-nicotine delivery systems inside your carry-on bags.
If you are ever unsure about what's acceptable, just ask your airline for clarification. You should also make sure your e-liquid does not exceed the maximum amount for liquids.
Find Out if Vaping is Allowed At Your Final Destination
Did you know that vaping is against the law in some countries? There are many Asian and Middle Eastern countries have harsh laws banning e-cigarettes and nicotine products.
People who decide to take a chance and vape in Singapore, Argentina, and Hong Kong may face possible jail time, confiscation or possibly get deported. Other countries where e-cigarettes are banned or restricted include Thailand, Lebanon, Qatar, and India.
If you are going to travel to another country, do your best to find out their stance on vaping before you leave. This can prevent possible misunderstandings and legal trouble after your plane lands.
Do Not Vape on the Plane
Please do not vape on the plane! If you're itching for a quick vaping session while you are above the clouds, try to wait until after you land. Although airlines may permit you to board the plane with your e-cigarette, you can't use it during the flight. The Department of Transportation (DOT) has banned people from vaping during commercial flights since it is prohibited in enclosed places.  
Use a Case to Protect Your E-Cigarette Device and E-Liquid
It's so tempting to throw your e-cigarette device into your luggage with the rest of your things, especially if you are in a rush - but don't do it. The best way to protect your e-cigarette device is to buy a case for it. A case will help protect your clothes and give your device extra padding in case it breaks open. If you don't want to spend money on a case, you can always use plastic bags instead.
Another tip that will keep you moving through the security line is to keep your e-cigarette battery and vape juice separate from the rest of your things. We recommend that you place the case on the top of your carry-on bag so that it's accessible at all times just in case you need to show it to a Transportation Security Administration agent.
Regardless of how you decide to protect them, make sure your equipment is kept in a separate pouch or compartment away from your clothes. This can also prevent your e-juice from leaking out of the tank of your e-cigarette and onto your clothes.
Bring Extra Batteries With You As a Backup
Many airlines won't allow you to charge your e-cigarette during the duration of your flight so it's your responsibility to bring extra batteries. Bring several ones that are already fully charged so you won't have to worry about trying to find an outlet later one. This will also help give you peace of mind in case you want to vape soon after your plane makes a landing. If you aren't sure if your airline will allow you to bring one or two spare batteries with you when you board the plane, ask in advance.
In Conclusion
You may have to do a little research beforehand, but you should be able to travel comfortably with your e-cigarette and e-juice during the holidays. Just remember to find out beforehand what the specific rules are for vaping according to your airline, airport and final destination so you will know how to best prepare for your upcoming holiday trip.
Buy Premium VG E-Liquid from Velvet Cloud
Want to stock up on your favorite vape juice before the holidays? Check out our premium VG e-juice. Velvet Cloud develops unique, one-of-a-kind e-juice flavors using only quality ingredients. All of our Premium High VG e-liquid products have an ultra high VG base and do not contain any artificial sweeteners, coloring, sugar or gluten. We have everything from fruity e-liquid flavors to ones that are unflavored and taste sweet like dessert to satisfy your cravings.