The Top 6 Apps for Vape Lovers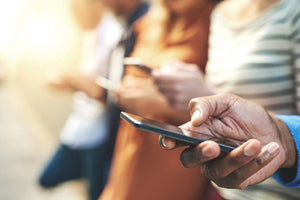 Did you know that there are several apps you can download that are designed to enhance your vaping experience? If you are new to vaping and would like access to different resources or would like to meet other people who enjoy vaping in your area, a vape app may be able to help!
There's a wide variety of apps to choose from that can help you shop around for a new vaping device, calculate ohms for you provide more information so you can learn more about your favorite hobby. Since we love all things related to vape, we wanted to shine a spotlight on five of the best vape apps available right now:
Vape Application #1: Ohm's Law
Are you considering sub-ohm vaping for the first time but are scared off because you aren't familiar with Ohm's law? Don't worry, all you have to do is download Ohm's Law on your smartphone. The free app, which is available on both Android and iOS devices, can easily show you how to follow Ohm's law the next time you want to give sub-ohm vaping a try. The app's sleek, simple design is easy to use and can really help maximize your vaping experience.
In case you aren't familiar, your vaping device is a big circuit and depending on the type you have the current, voltage, and resistance can be adjusted. This means that you can tailor your vape session according to your specific needs. All you have to do is enter at least two variables into the app and it will immediately calculate the correct wattage, voltage, current, and resistance output.
Vape Application #2: Velvet Cloud
Dare we say more?!
Vape Application #3: Vape Boss
Next up is Vape Boss. If you are looking for an all-encompassing app with multiple features for vape enthusiasts, Vape Boss is the right one for you! The free mobile application was created in 2014 and allows you to receive the latest news and tips about vaping with just a swipe of your finger.
This app is great if you want to get to know other people nearby and around the world who also love to vape due to its built-in social networking features. You can also find the hottest vape products on the market with its mobile shopping integration. Vape Boss also keeps track of local meetups and vape retail stores. So if you want to find out if there are upcoming events for vapers in your local area or read product reviews before you buy an item you should turn to the app. Ultimately, Vape Boss is a one-stop-shop for people who want to connect with other vapers, browse the latest products and learn more about the vaping industry.
Vape Application #4: Vape and Coil
Do you find yourself yearning for new ideas whenever you configure your vape device? The Vape and Coil app can provide you with the unique opportunity of seeing how other people around the world are building their own coils, wicks and e-juice. A large and passionate community of vapers have already downloaded the app so you can browse their profiles, comment and look at their pictures for inspiration the next time you build your own device. If you see a build you like, just save it and you'll be able to see photos of how they completed it step by step.
The Vape and Coil app features a calculator where you can record how many coils you have and their diameter so the app can calculate the minimum and maximum wattage it can hold and other information. They have a section in their app that allows you to create and print out labels if you make your own e-juice.
Vape Application #5: Vaffle
Since content about vaping can be flagged as inappropriate or banned from other social media platforms, the founders of Vaffle wanted to create a virtual community that was safe for vape enthusiasts. The free app already has a thriving international vaping community, making it the go-to app for people who want to connect with people who have similar interests.
Vaffle has a beautiful and sleek design that allows you to share engaging photos and videos on your personal profile. You can follow other people and talk to vapers from all over the world. All you have to do is create a profile with a picture and add details about yourself and where you live. There is a section in the app where you can browse video content from other vapers. If you want to record yourself and share content, you can either upload short videos straight to the app or connect it to your YouTube account. There is also a separate section with vaping tools like a diary and a calculator.  
Vape Application #6: QuitNow!
Everyone knows that giving up smoking can be difficult, especially if you doing it all alone. There are several apps on the market that are geared toward people who are trying to kick the habit, but  QuitNow! is considered one of the best due to its all-encompassing features.
Once you download QuitNow! you can connect with other people who are also trying to give up smoking. Additional features make it easy for you to learn more about the health benefits you can enjoy now that you've stopped smoking so you can stay motivated.  QuitNow! can track how many days have passed since your last cigarette and the average number of smokes you have passed up. You can also input how much you'd usually pay for a pack of cigarettes and see how much money you've saved in the long run by giving up smoking. The QuitNow! app is available for free to download on iOS and Android smartphones.
Purchase Premium Quality E-Juice from Velvet Cloud
Feel free to check out our store for the best premium high VG Eliquid on the market! Aria and Julie founded Velvet Cloud in 2011 because they wanted to develop high quality, artisanal vape juice. Our products have a one-of-a-kind taste since we only use original recipes and hand selected ingredients. Velvet Cloud e-juice has a natural VG base and don't contain any artificial sweeteners, sugar, GMOs or gluten. Don't hesitate to contact us today to learn more about our available signature dessert and fruit flavors!