Beat the Heat with Summer Sweet E-Liquid from Velvet Cloud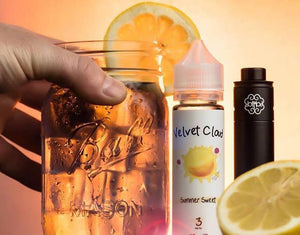 With summer just around the corner and with most of us already feeling the heat, there's nothing like relaxing with an ice cold summer drink. When you think of summer drinks you might think of lemonade or sweet tea, especially for those in the southern states where it's a staple. But what if you could have the flavors of raspberry lemonade, sweet tea, and watermelon in one delicious summer vape?
Summer Sweet Fruit Flavored E-Juice
Velvet Cloud has created the perfect summer vape with Summer Sweet fruit flavored e-juice. This locally made, artisanal, ultra-high VG based e-liquid blends the sour taste of lemon, the refreshing taste of watermelon, the sweet and robust taste of raspberry, and the southern goodness of sweet tea.
Every flavor blends together seamlessly to complement each other into a vape that will remind you of sipping your favorite summer drink during a baseball game, at a picnic by the lake, or on your grandmother's front porch.
The great thing about this fruit-flavored e-juice is that it is perfect for an all-day vape! It's not too sweet, not too tart, and it's refreshing as a dip in the water after spending a day by the shore.
Check Out the Flavors
Raspberry Lemonade
There's the cool, tart flavor of lemonade, and then there's raspberry lemonade, which enhances the taste of many people's summer go-to drink. The sweet raspberries balance out the tart lemons for a perfect blend. Both the raspberries and lemons are delicious ingredients on their own and would do any e-liquid proud, but combined, you have a summer concoction that is invigorating and mouthwatering.
Sweet Tea
A drink that southerners can't live without, sweet tea has a flavor that is quite unique. Since the tea in the south is brewed strong, lots of sugar counterbalances that. According to Jeffrey Klineman on Slate:
By "sweet tea," we mean "sweet." As one food technologist told me, some of the sweetest glasses can hit 22 Brix of sugar. That means that 22 percent of the liquid consists of dissolved sugar solids, or, to put it in more meaningful terms: close to twice what you'd find in a can of Coke. Still, there's a balance to the flavor—the tea is brewed long and strong, so it gets an astringency that can only be countered by lots of the sweet stuff.
Watermelon
Watermelon is another flavor that is all about summer, whether it's having a slice at a holiday get-together or cut into squares in a watermelon salad. The flavor is sweet but full of juices so that when it's served nice and cold, it instantly refreshes you and cools you down when it's hot outside.
Don't Just Take Our Word For It
Without being able to taste it right this minute, reviews are important to showcase the flavors and notes of Summer Sweet fruit flavored E Juice.
According to E Juice Connoisseur:
The front side of the vape is sweet, but lacks any distinct characteristics until the very end of the inhale where the soft, delicate chocolate flavor begins to emerge with a watermelon undertone. Both of those flavors take on more definition through the exhale with an incredibly realistic berry becoming the dominant player and a juicy, fresh lemon smoothing out the well balanced profile. It's a bit more mellow and subdued with a sublime, sweet watermelon, the juicy lemon flavor, and the rich, fresh mouthfeel that's unique to a pure VG base.
Other reviews included those who said:
"This is absolutely my favorite flavor"
"This is definitely my go-to flavor that I smoke all day"
"Summer Sweet is as tasty as they come"
"I get a smooth hit that's easy on my throat, plus it clouds up enormously"
"I have to say that I love it"
"Love the balance of flavors in Summer Sweet"
"Delicious and complex, but subtle enough that it's my round the clock vape"
"Aside from homemade liquids, Summer Sweet and

 

Campfire

 

are the only liquids I vape"
"Sweet and tasty"
"This really does taste like summer in your mouth"
It's sweet, tangy, tasty, and like one reviewer stated, "It tastes like summer in your mouth." The overall rating is four and a half stars out of five with many reviewers claiming it as their favorite fruit e-liquid and in some cases, their favorite e-liquid - period.
Premium Fruit E-Juice Done Right
All of the e-juice at Velvet Cloud is crafted with perfection. Each delicious e-juice is a natural VG base with nothing extra added like sugar or dairy products. There are also zero added artificial sweeteners, food coloring, GMOs, preservatives, dairy products, diacetyl, gluten products, or animal byproducts. Instead, this locally made, artisanal, ultra-high VG based e-liquid is organic, cruelty-free, and vegan.
Every ingredient is premium and hand-picked for tastes that are one-of-a-kind and enjoyable to even the most discerning of palates.
What Velvet Cloud Offers
Velvet Cloud is committed to offering stellar customer service, lightning fast shipping, and premium quality e-juice at a price that is affordable. Furthermore, a portion of our proceeds go to various charities, including wildlife and animal rescue groups.
We offer signature flavors in dessert, fruit, tobacco, menthol, and unflavored choices.
Relaxing and Refreshing
No matter where you are from, you'll want to beat the summer heat, and what better way to do that than with a refreshing vape that is perfect all day long? If you are ready to try out Summer Sweet E Liquid by Velvet Cloud, just check out the link. For any other information or to ask questions about what makes Velvet Cloud some of the best e-liquid flavors available, feel free to contact us so we can help or check out our FAQS page.
You can get Summer Sweet by Velvet Cloud in 60ML and 120ML (2x60ML) sizes and the nicotine levels available are 0MG, 3MG, 6MG, and 12MG. Don't forget to join the rewards program, too, so that you can save on future purchases!