How to Select a Trusted E-Liquid Company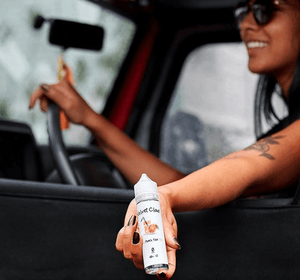 Selecting a trusted e-liquid company is the most important decision you will make as an electronic cigarette user. Not all e-liquid companies are created equal, and it is up to you to take the time to compare e-liquid providers and choose a reputable company with a strong commitment to quality. Below are ten qualities to seek in your e-liquid provider. 
1) A Wide Variety of Signature Flavors
"Taste is an important factor in all tobacco products. Our study supports a growing body of evidence that suggests the use of flavors in tobacco products, like e-cigarettes, are appealing to youth and young adults."

- Melissa B. Harrell, Ph.D., M.P.H., Assoc. Professor at UTHealth School of Public Health
Flavor variety is essential to satisfying adventurous e-liquid consumers. By providing customers with a wide variety of signature flavors, an e-liquid company demonstrates its versatility and desire to satisfy the distinct tastes of an extensive customer base. The best e-liquid providers offer a vast range of flavors that typically fall into one of the following categories:
Dessert Flavors
Fruit
Tobacco and menthol
Unflavored
2) An Environmentally-conscious Approach
The best e-liquid providers brew their e-liquids using an eco-friendly approach. Their premium high VG Eliquid products are made without harmful chemicals or animal by-products. They contain natural ingredients as opposed to artificial sweeteners, preservatives, or food colorings. The result is a more healthful combination of ingredients that does not harm the environment.
3) A Strong International Presence
Vaping is more popular than ever in the United States and across the globe. Countries such as China and Great Britain join the United States as nations that witnessed a significant increase in the use of e-cigarettes. The most accomplished e-liquid companies have responded to this trend by producing e-liquids that are known and enjoyed worldwide. They are accustomed to shipping products within and outside the United States and they make it convenient for customers across the globe to enjoy their products.
4) Superb Customer Service
"E-cigarette sales have exploded over the past decade — and the devices have slowly been embraced by many in the public health community for their potential as a harm reduction tool to help smokers quit."

- Julia Belluz, Vox Media
The rapid rise in e-cigarette sales over the past decade has resulted in a host of fly-by-night providers that are unable to respond to customer concerns and demands. Steer clear of unresponsive companies and those that do not use premium vapor juice or use a ticket system to manage clients. Most importantly, your e-liquid provider should be easily accessible by email and social media. Additional perks, such as a member rewards program, should be offered to incentivize prospects to turn into loyal repeat customers. 
5) The Ability to Provide Helpful Guidance and Recommendations
With so many options available to consumers, it can be difficult to choose the best e-liquid flavors. The most accomplished e-liquid companies employ industry experts who can help you navigate the rapidly evolving e-liquid landscape to ensure that you buy high VG e-liquid products.
6) Stellar Online Reviews
Today's consumers do not hesitate to share their thoughts and opinions about products and their experiences with companies. The vaping industry is not immune to this trend, as countless users post their feedback on e-cigarettes and e-liquids. As you compare e-liquid providers, be sure to check the following reviews:
E-liquid reviews on independent e-cigarette forums
Reviews on the provider's website
Comments posted on community forums such as Reddit and others
Positive feedback posted on social media sites
7) A Convenient Wholesale Store
Busy customers deserve a convenient, user-friendly means of browsing inventory and placing orders. Top-notch e-liquid providers offer customers an online wholesale store that is fast and easy to navigate. As you compare companies, be sure to ask if they have a wholesale store or e-commerce site that offers premium vapor juice. If they have a wholesale store, be sure to visit the site to ensure that it offers a positive user experience. 
8) A Commitment to Top Quality
Top-notch e-liquid companies are committed to providing customers with an outstanding experience with their products. One of the best ways to select a quality-minded provider is to ask whether they brew their e-liquids in an ISO-7 certified laboratory. ISO-7 certification is awarded by an external agency and is earned by laboratories that demonstrate compliance with the most stringent regulatory standards. Other indications of excellent quality include the following:
Brewing e-liquids in micro-batches to optimize flavor
Selection of premium ingredients
Use of organic and natural elements
A natural VG base with no artificial sweeteners or additives included
9) A User-Friendly Return Policy
Even the bestVGg e-liquid companies work with customers who sometimes decide that a product does not meet their needs and desires. Top companies offer a return policy with reasonable terms and provide specific instructions to customers seeking a refund or exchange. As you review companies, it is wise to note that some goods, such as perishable items and flammable liquids, may be exempt from being returned. Additionally, most leading providers will not allow refunds or exchanges if 30 days have passed since your purchase.   
10) Prompt Order Preparation and Delivery
Few things are more frustrating than placing an order and then waiting weeks for your e-liquids to ship. Prompt order fulfillment is essential to ensuring your satisfaction, so be sure to ask your provider how frequently orders are prepared and shipped. Ideally, your e-liquid provider should be able to fill orders within 24-72 hours and maintain a robust stock of products. Top providers dispatch shipments Monday through Friday, and some will even prepare and ship orders on the weekends. Finally, you should always receive a shipping confirmation for your order through email. 
The Bottom Line
Selecting the best e-liquid company should be your top priority - especially if you are new to the vaping industry. By choosing an established, highly regarded provider that exhibit the ten qualities above, you will maximize your satisfaction with your purchases. Most importantly, you will have a trusted resource to provide support when you have questions or would like a recommendation.