10 Tips to Prevent Your Tank From Leaking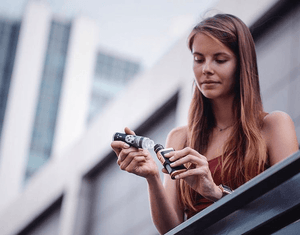 There is nothing worse than a leaky tank, especially when you have just stocked up on your favorite premium high VG e-liquid. If you are frustrated because your tank always seems to spring a leak just when you least expect it, you are not alone. Although many people just rush out to their local store so they can buy a replacement tank, there are several things you can do now that may prevent your tank from leaking in the first place. Not sure where to start? Don't worry, we've got you! We have compiled a list of ten tips that can stop your tank from leaking and wasting your e-liquid.
Tip #1 - Do Your Best to Keep The Tank Vertical
Our first tip is to keep your tank vertical for as long as possible whenever it's not in use. You should also try to keep it upright when you're charging it and carefully remove the tank from the vape mod. This can dramatically improve your odds of keeping your tank in good condition.  
Tip #2 - Routinely Inspect Your Tank for Damage
It only takes a tiny crack for your tank to be ruined. Take the time to inspect your tank regularly for any type of damage. Tanks with a crack in the glass are no longer airtight, so your e-liquid juice can easily leak out.
Tip #3 - Check The VG Level of Your E-Liquid
Next, you should check the VG (or vegetable glycerin) level of your e-liquid. The viscosity of VG can make an impact on whether the tank leaks. You can prevent this by looking at your vape mod or e-cigarette's manual to find out more information about the recommended PG (propylene glycol) to VG ratio.
Tip #4 - Inspect The O-Rings on Your E-Cigarette
Another tip that can prevent your tank from leaking is to make sure your O-rings are working correctly. If they are damaged in any way, it can interfere with the integrity of your tank's air seal. Replace them right away if they are not in good condition.
Tip #5 - Check to Make Sure the Tank is Always Sealed
If the vape tank isn't sealed properly there's a chance your e-juice will leak out of the opening. The next time you want to smoke, check to see if the threads are fastened correctly and double check that the tank is airtight.
Tip #6 - Clean Your Tank Often
How often do you clean your tank? If you like to vape a large assortment of premium, delicious e-liquid flavors, you should clean the tank of your e-cigarette more often to prevent residue from building up inside and possibly causing the tank to leak. All you have to do is disassemble the parts and wash it in cold water with dish soap. Make sure it's completely dry before you try to put it back together.
Tip #7 - Always Fill Up Your Tank Properly
Another great tip is to always fill up your tank the right way. That means you must do your best to avoid getting e-liquid in the tank's chimney, or central airflow tube, since this can cause it to leak. Also, try not to overfill the tank. It's always smart to leave some space so your e-liquid is less likely to start leaking.
Tip #8 - Remember to Keep The Lid On
You should also remember to keep the lid on the tank as much as possible since it can start leaking out of the airflow holes. The only time the cap should be off the tank is when you are cleaning it or it is empty.
Tip #9 - Control the Airflow When You're Filling the Tank Up
Another trick that can help prevent the tank of your e-cigarette from leaking is to keep the airflow open. When your airflow is at a low or more restrictive setting it can make it harder for you to taste the e-liquid. As a result, you may inhale more strongly, which can cause your e-liquid into the atomizer coil and make it flood and eventually leak in the future. When you remember to open your airflow to a wider setting it can help decrease your chances of having a leaky tank.
Tip #10 - Always Inspect The Coils for Damage
Lastly, we also suggest that you regularly inspect the coils inside your e-cigarette to make sure it's not damaged. Regardless of if it's due to manufacturing issues or human error, damaged coils can make it hard for you to vape and cause the tank to leak. Check to make sure the coils are screwed in or connected properly. If you find an issue or think it's damaged, try to get a new coil as soon as possible.
Check Out Our Signature E-Liquid Flavors
Want to learn how to vape like a pro? Velvet Cloud's blog is the best place to get the latest tips and advice that can really enhance your vaping experience. Our company was founded in 2011 by vape lovers  Aria and Julie and operates out of the San Francisco Bay Area. Whenever you purchase from us, you can be confident that you will receive premium e-liquid flavors with a natural VG base that doesn't have any additional coloring or artificial sweeteners. Velvet Cloud e-liquids are also free of gluten, GMOs and other preservatives.
Our high-quality e-liquid is brewed in micro-batches in our certified ISO7 lab. We also have a dedicated vapor chef that creates unique, artisanal ultra high VG based e-liquid in a wide range of incredible flavors. Please feel free to try out our e-liquid products if you are interested in trying pure VG liquid the next time you vape.
We have several collections of e-liquids in stock, so regardless if you prefer fruity flavors or want to vape something that will satisfy your sweet tooth, or maybe just want to try an e-liquid with tobacco and menthol or simply one that is unflavored, we've got what you covered! Of course, you can always grab our Treasured Trio package of our best-selling flavors if you really can't decide which one of our e-liquids you would like to try out first. You can expect to get your products promptly on your doorstep thanks to our fast next-day shipping.