10 Surefire Ways to Prevent Spitback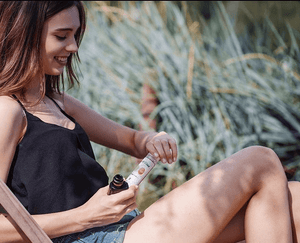 One of the best parts about vaping is that you can always try new, exciting flavors. From premium high VG e-liquid with enhanced fruit flavors to e-liquid with a more traditional tobacco taste, there is a wide range of flavors available for you to choose from. Unfortunately, some people who vape aren't able to fully enjoy their vaping experience due to spitback.
Spitback occurs when very hot droplets of e-liquid get into your mouth when you inhale. Basically, this can happen anytime the e-liquid gets heated up to a boil inside your e-cigarette but doesn't fully vaporize. Spitback can make it difficult for you to taste the flavors you love. You may be tempted to stop vaping for a while depending on how frequently you experience it.
Luckily, there are several ways you can prevent spitback from happening in the future. Here are ten different tips on how to reduce the amount of spitback with your vaping equipment.
Tip #1 Find Out What Type of E-cigarette You Own
One of the first things you should do is look at the type of e-cigarette you are using, especially since certain types of vaping equipment are more susceptible to spitback. For example, you're more likely to experience spitback if you have an e-cigarette with a rebuildable tank atomizer (or RTA) instead of one with a sub ohm tank. Rebuildable tank atomizers are more likely to allow e-liquid juice to gather inside the chamber, which can make it eventually overflow and lead to spitback. You can prevent this by either re-wicking your coils or getting an e-cigarette with a different type of tank.  
Tip #2. Buy a Drip Tip That Prevents Spitback
Another way you can stop spitback from occurring is by getting a certain type of drip tip. You can purchase one that is longer or has a slight curve in it since it can make it will make it more difficult for hot e-liquid droplets to travel up through the mouthpiece and get into your mouth. If you don't want to try that, you can try an angled or rotatable drip tip since it will also elongate the airflow path.
Tip #3. Switch To An E-liquid with a Higher VG Level
Next, trade in your low VG for an e-liquid with a higher VG level so you will have fewer spitback issues. PG has less consistency than VG, so e-liquid with high-PG levels is more likely to flood an atomizer than e-liquid that has a high VG.
Tip #4. Don't Oversaturate Your Wicks
Before you vape, you may have to dip the wick of your e-cigarette into the e-liquid before you use the coil. Too much liquid can flood the chamber, which can lead to spitback. You can prevent this by being very careful that you don't oversaturate your wicks. The wicks should be wet, but not so much that e-juice starts to pool around the coils of your e-cigarette.
Tip #5. Cover Your Drip Tip
Another suggestion is to cover your drip tip with something that can prevent your e-liquid from going into your mouth. You can also look for a tank that is designed with specific anti-spitback features so you won't have to worry about the issue.
Tip #6. Clean Out The Chimney in Your Tank
Spitback can also happen when your e-liquid pools inside the tank's chimney. Remove your drip tip and clean it out regularly so the liquid won't collect in the chimney and go back down to the coil inside your e-cigarette. This simple tip will dramatically decrease the likelihood that spitback will ruin your vaping session.  
Tip #7. Increase the Wattage of Your E-cigarette
What wattage level does your e-cigarette have? When the wattage is too low, it can cause your e-liquid to not vaporize completely. To combat this, raise the wattage level of your e-cigarette if possible.
Tip #8. Avoid Certain Types of Coils
Did you know that certain types of coils can cause spitback? For example, vapors who have an e-cigarette with Clapton or twisted coils are more likely to experience spitback due to how the coils are designed. Avoid certain multi-strand coil types so your e-liquid won't be able to pool around the coil.
Tip #9. Wait Before You Start to Vape
If all of those suggestions are too much for you, another option is to wait a while before you start to vape. Let your vape go a couple of seconds so that if spitback does occur you won't have to taste it. Only start to inhale once you are confident it's working properly.
Tip #10. Don't Inhale Too Strongly
Lastly, we also suggest that you avoid inhaling too strongly when you are vaping so the e-liquid does not flood the chamber of your e-cigarette. You can also try to adjust the airflow so that it is lower.
Conclusion
Well, that's it! We hope our tips were helpful. Spitback is extremely unpleasant, but there are several ways you can prevent it from putting a damper on your vaping session. If you don't want to try these suggestions, you can always buy an e-cigarette with components that will make spitback less likely to happen.
Try Our Pure High VG E-Liquid
Velvet Cloud prides itself on making e-juice the right way. Our e-liquid has a natural VG base without any additional artificial sweetening or coloring. We only use premium ingredients and every product is vegan, sugar-free, GMO-free, and gluten-free.
Founded in 2011, Velvet Cloud manufactures every product here in San Francisco inside our own certified ISO7 lab. Although our products are made with love in the Bay Area, we sell our e-liquid to people all over the world. All of our e-liquid flavors have a unique, one-of-a-kind taste and high-quality ingredients thanks to our personal chef. When you buy Velvet Cloud e-liquid you can be confident that you are only vaping locally made, artisanal, ultra-high VG based e-liquid. Visit our shop today if you would like to try out some of the best and most unique e-liquid blends out on the market.