The Perfect Holiday Gift: Frosted Gingerbread E-Liquid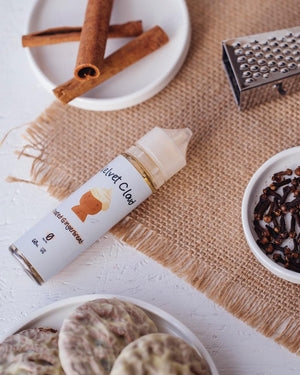 There's nothing like the scent of gingerbread cookies wafting in the air to let you know that the holidays are near. If you're like me, you may also smile and chuckle fondly while you remember the catchphrase of the fabled Gingerbread Man.
"Run, run, fast as you can,
You can't catch me, I'm the gingerbread man!"
Besides being a symbol of the holiday season, gingerbread cookies are a treat in themselves! The mouthwatering concoction combines spices, cinnamon, ginger, and honey or molasses into one delicious cookie. When you consider that they also have fun decorations with tasty icing, it's no wonder that it's a favorite treat for many people across the world.
Now that the holidays are around the corner, we wanted to shine a spotlight on the history of gingerbread, how our special Frosted Gingerbread e-liquid flavor is almost like the real thing, and why it's a great holiday gift idea!
The Amazing History of Gingerbread
People have loved ginger for thousands of years. The ancient Egyptians and Greeks also used it for religious and ceremonial purposes. Ginger root was also used to treat certain physical ailments including inflammation, digestion issues and other health conditions by the Chinese starting in the 10th century.
Ginger became popular in Europe during the Middle Ages, where it was used to disguise the odor and taste of rotting meat. Eventually, people in France, Germany, and England started to use ginger to make gingerbread cookies and sold it in various markets to celebrate the holidays. It wasn't long before giving someone a gingerbread cookie became a symbol of how much they loved them.  
Historians believe it was the Germans who first created the concept of Gingerbread houses in the 16th century. The demand for gingerbread houses increased at that time due to the popularity of the fable Hansel and Gretel by Brothers Grimm. Children loved hearing the tale of the brother and sister who were tempted by a wicked witch with a gingerbread house adorned with candy.
Queen Elizabeth I of England is credited with creating the first gingerbread man cookie. She instructed her baker to make them resemble her dinner guests, right down to decorating the cookie with colored icing to mimic their hair and clothes. The cookies were a success and made a good impression on the important political guests and dignitaries who visited Queen Elizabeth during her reign.
Over time, gingerbread cookies became a status symbol to Europeans. Wealthy families used expensive edible gold leaves to decorate their cookies while the middle class used icing. Soon the act of decorating gingerbread cookies became an art form. Cookies were made in various shapes to celebrate the different seasons of the year and to symbolize religious tokens and royal figureheads.
English colonists and German immigrants brought their recipes for gingerbread cookies and houses with them to the American colonies. Now it's hard not to associate the smell of gingerbread cookies with holiday festivities!  
How We Make Our Frosted Gingerbread E-Liquid
At Velvet Cloud, we are proud to bring your favorite traditions to life with our delicious Frosted Gingerbread e-liquid blend. We were determined to make a signature vapor blend that combined the sweet taste of cookies, spice, and frosting with every inhale. After careful planning and testing different combinations, our vapor chef created a final product that uses full-bodied flavors to closely resemble the taste and smell of frosted gingerbread cookies.
Besides the premium flavors, our Frosted Gingerbread e-juice product also uses pure Vegetable Glycerin and distilled water so you can have the best vaping experience. The product does not contain any gluten, dairy or products derived from animals. You will also be glad to know that all of our products are vegan and all-natural, without any harmful chemicals, preservatives, sugar or Genetically Modified Objects (GMOs).
Our Frosted Gingerbread e-liquid and our other blends are brewed in a certified ISO-7 laboratory. Since we care about making only artisanal e-liquid, we participate in every step of the manufacturing process to make sure every batch maintains the same level of quality and has a consistent taste and smell.
Our Frosted Gingerbread E-Liquid is The Perfect Holiday Gift  
If you're still looking for a birthday present, holiday gift, or just a small token to show someone how much you care, look no further than our Frosted Gingerbread e-juice blend. After all, what better way to usher in the holiday spirit than to give a loved one this deliciously festive e-juice?
Of course, you can also buy our Frosted Gingerbread e-liquid blend if you want to give yourself a treat. We encourage you to give it a try, especially if you have a sweet tooth or want to bring back some of your precious childhood memories with every vape session. Our Frosted Gingerbread e-juice is one of our most popular vape blends.
Buy Frosted Gingerbread and Other Premium VG E-Liquid Blends from Velvet Cloud
At Velvet Cloud, we pride ourselves on developing premium artisanal vape blends that also have a high level of quality Vegetable Glycerin. We hand select every ingredient and create unique recipes with our head vape chef. Since our blends are truly one-of-a-kind, you won't find be able to find them anywhere else but here. You also won't have to worry about inhaling potentially harmful or toxic ingredients that can negatively affect your health because our products are cruelty-free and vegan.
Aria and Julia founded our company in 2011 due to the limited amount of all-natural, unique vape blends on the market. Determined to fill the void, they started selling tasty e-liquid blends with high-quality Vegetable Glycerin locally in the Bay Area. Now we are proud to say that we sell our products to customers around the globe.
We also recently decided to move our company headquarters from sunny California to Portland because we wanted to be in an area that celebrates small businesses and local artisanal goods.
The next time you need to stock up on premium VG e-liquid blends, try our signature Frosted Gingerbread flavor!