Peach Tea E-Liquid: It's Like Vaping Summer!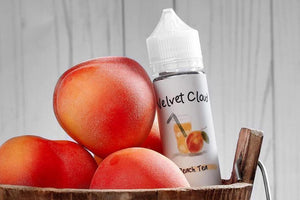 For many of us, summer means going swimming, grilling out, boating, or just enjoying being with friends and family. One of the essential summer flavors is fresh, ripe peaches, and Peach Tea e-liquid by Velvet Cloud is the perfect fruit-flavored e-liquid to enjoy while you savor your summer fun.
What is the Blend of Flavors?
Peach Tea e-liquid from Velvet Cloud blends the outrageously compatible flavors of peach and classic black tea. We describe it as:
Peach Tea starts with the natural deliciousness of ripe peaches and finishes with notes of classic black tea for a sweet and aromatic flavor that's as refreshing as it is irresistible.
That's just the basics; what you get is a refreshing taste in a vape so you can enjoy the flavor of a summer drink all year long!
Fresh, Ripe Peaches
Although originally found in China, peaches made their way to many parts of the world. In the United States, you'll find them grown in California, South Carolina, and, of course, Georgia! The Georgia Peach is more than just a catchphrase. 
Peaches have a distinct taste that is loved by many. There are white peaches and yellow peaches - white have a more delicate flavor and a floral sweetness while yellow peaches are typically more popular and have a more intense flavor. Yellow peaches are more acidic and tart and have that burst of fruit flavor that is so unique.
Black Tea
Black tea is unique in itself with a more oxidized flavor than green, oolong, and white teas. This means the flavor is more intense and is why southerners love their sweet tea - the sweet balances the intense tea flavor. It's so popular that if you're talking about tea in Western Culture, in most cases it is going to be black tea.
A Combination You'll Love
The combination of black tea and peaches is so popular because the two pair so well together! It's a southern summer drink that people enjoy no matter where they live because it's refreshing and perfect after a long, hot day, but can also be enjoyed any time of year. It may be a summer drink, but the flavors are distinct and pleasing enough that it won't matter what the thermometer reads.
Check Out the Reviews
While we know how tasty this combination is, the reviews are unbiased. This review on Reddit stated:
This flavor tasted as advertised without a doubt. Though I was hoping and am still searching for, a juice that feels and tastes like a cold glass of southern sweet tea on a hot day, I was pleasantly surprised to realize that this juice tastes almost identical to Peach Tea Snapple. Not much else to say about it. If you're a fan of Peach Tea Snapple, you'll probably love this flavor.
The Daily Dripper on YouTube did a review and stated:
Good clean flavors through and through. It's straight peach tea with an intense peach flavor on the front end, it mellows out kind of on the mid palate, then towards the end you get kind of a nice combination of a drink but not like a menthol or mint but a nice, fresh, crisp peach tea flavor.
This flavor has the distinction of having a solid 5/5 stars on our site with statements like:
"This is go-to to flavor. Just the right amount of flavor."
"It's light and refreshing."
"I really enjoy the Peach Tea. Nice subtle, realistic flavor. I recommend it."
"The peach is complex and rich with just the right sweetness, the tea, earthy and astringent and the two flavors are balanced to perfection. As always with Velvet Cloud, the clouds are dense and immense. One of my favorite tea juices and I have sampled many."
"Great flavor. Mild and tasty. The peach is just right and doesn't overpower the tea."
A Peach Tea Vape with Handcrafted Perfection
No matter which e-juice you choose at Velvet Cloud, every single one of them is handcrafted to perfection. What we do is hand pick the ingredients, much like you would do at a Farmer's Market. We make our products right here in San Francisco, but they are enjoyed all around the world.
This is a locally made, artisanal, ultra-high VG based e-liquid. Everything is cruelty-free, organic, and vegan-friendly, except in the very rare instances where the flavor note would have to be derived from an animal, i.e. honey, cream, etc.
What we don't add are sugar, artificial sweeteners, food coloring, GMOs, preservatives, dairy products, diacetyl, gluten products, or animal byproducts. A portion of our proceeds goes to various charities, including wildlife and animal rescue groups. You are welcome to suggest a charity or rescue group that you think we should support!
What We Offer
Here at Velvet Cloud, we are committed to offering super fast shipping, premium quality e-juice at a price that is affordable, and the best customer service possible. Plus, we pledge to never sell or share your information - not with third parties or even our own partners. Your data and information is 100% safe with us. We use the highest possible encryption not just on our site, but through the entire checkout process. 
We offer signature flavors in dessert, fruit, tobacco, menthol, and unflavored choices.
A Vape Perfect for Peach Tea Lovers
If you love peach tea, then this is the vape for you! If you are ready to try out Peach Tea E Liquid by Velvet Cloud, just check out the link.
For any other information or to ask questions about what makes Velvet Cloud one of the best in the business, feel free to contact us so we can help, or check out our FAQS page to learn more about what we offer.
You can get Peach Tea by Velvet Cloud in 60ML and 120ML (2x60ML) sizes and the nicotine levels available are 0MG, 3MG, 6MG, and 12MG. Don't forget to join the rewards program too, so that you can save on future purchases! We are sure that you will want more once you try one of our most popular premium fruit-flavored e-juices.