Mt. Shasta Frost is the Best Menthol Vape Juice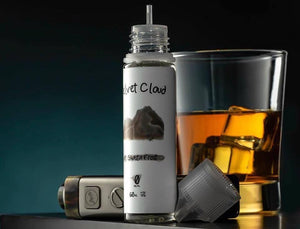 A Tobacco-Free Menthol Mint Experience
Mt. Shasta Frost is a breath of fresh air for daily vapers seeking to put tobacco behind them once and for all. This unique high VG e-liquid blend of menthol, peppermint, spearmint, and other mint-boosting flavor enhancers is completely free from tobacco and other artificial flavors. The result is a pure burst of refreshing mint flavor which has happy Velvet Cloud customers like Zach W. describing the Mt. Shasta Frost vaping experience as "like biting into a York peppermint patty." We agree, but with no sugar or artificial sweeteners Mt. Shasta Frost is a healthy way to enjoy a burst of mint flavor without packing on the calories or contributing to tooth decay. 
Icy Kick or All-Day Menthol Vape With Mt. Shasta Frost Menthol E-Juice
Katy W. recommends Mt. Shasta Frost for blending with her other favorite Velvet Cloud e-juice flavors to add what she calls "an icy kick". Customer Dennis S. recommends Mt. Shasta Frost as his all-day vape citing the incredible burst of mint flavors complemented by the pure natural sweetness inherent in all of the high VG (vegetable glycerin) e-liquids formulated by the vaping artisans at Velvet Cloud. Even the name of this artisanal e-liquid conjures visions of the highest frosty peaks of refreshing vaping experience for menthol and mint aficionados.
The Mt. Shasta Namesake
The artisans at Velvet Cloud found a truly inspirational namesake for our best menthol e-liquid in the mysterious Mount Shasta just north of us in Northern California near the Oregon border. What better name could we find to represent the cascade of flavors in our pure menthol mint blend than Mount Shasta? The ancient mountain is one of the most prominent peaks in the Cascade Mountain Range, extending from Northern California to British Columbia.
On a clear day, the frosty snow caps of Mt. Shasta can be seen from 100 miles away as one of the largest stratovolcanoes in the world, soaring to an altitude of  14,179 feet. Mt. Shasta has a long tradition as one of the world's most prominent sacred mountains, with conservative estimates based on artifacts suggesting that humans have inhabited the region for as long as 11,000 years. The Native Americans of Northern California have long revered Mt. Shasta as a primordial source of invigorating spiritual energy tracing back to the ice age. Mt. Shasta Frost was formulated to encapsulate the refreshing alpine coolness of its namesake for an unforgettable, invigorating vaping experience.
The VG Advantage at Velvet Cloud
In the vaping world, the advantages of vegetable glycerin (VG) e-liquids are well-known. Vegetable glycerin has a natural sweetness which keeps our Velvet Cloud vaping community satisfied and coming back for more. All of our unique e-juice formulas use USP grade 99% pure vegetable glycerin with zero artificial sweeteners. All Velvet Cloud blends are gluten-free, GMO-free, and we're proud to say, vegan-friendly. We don't add anything weird, such as artificial coloring, to our complex flavor blends.
The lingering "tip of the tongue sweetness" that makes the vaping experience so satisfying for so many Velvet Cloud vapers is an all-natural property of the pure VG blends. Vegetable glycerin is a natural ingredient in many food products and is also classified as a humectant. That means it attracts moisture, which is why it is so prevalent as a healthy hydrating additive in lotions and shampoos.
The organic nature of VG liquid carries a much lower risk of allergic reaction, unlike the alternative PG juices. It's estimated that 1 in 10 PG users can experience sensitivity producing allergic reaction symptoms such as nausea, headaches, congestion, and lingering throat irritation. For vapers who prefer menthol, Mt. Shasta Frost is like an icy balm for the throat. The only lingering effects are the cool tip of the tongue sweetness and the soothing minty freshness of a clear throat, similar to the effects of a good mentholated cough drop. 
Full Mouth Sensation With Mt. Shasta Frost
For former tobacco smokers, and even vapers who are used to the harshness of propylene glycol (PG) vaping, the full-mouth satisfaction and mildness to the throat which characterizes the VG vaping experience is a welcome surprise. As with all of our pure VG blends, Mt. Shasta Frost provides the rich aromatic vapor clouds that can only be generated with high VG e-juice. Unlike the vacuous harsh throat hits which come from cigarettes or PG vaping, the rich vapor clouds from Mt. Shasta Frost inundate the mouth and throat with an intense spectrum of natural mint essences. The frosty vapor rolls over the tongue and cheeks, invigorating the entire mouth followed by a full throat sensation which brings to mind a deep breath of Alpine fresh air.
The superior viscosity of the VG blend is perfect for sub-ohm vaping with just a .6 ohm coil. Mod batteries and coils last longer than with a rapidly burning PG liquid and your supply of Mt. Shasta Frost provides more vapes per bottle as a result. The intensely rich clouds deliver a mouthful of peppermint and menthol satisfaction that surpasses anything you've experienced with a tar-corrupted mediocre menthol cigarette. For vapers looking to step down from nicotine, Mt. Shasta Frost is available in a variety of nicotine levels ranging from 12, 6, 3, and 0 mg per 15 ml bottle. You can order yours today and be on your way to the frosty menthol peaks of Mt. Shasta by clicking the link above. 
Purity and the Mt. Shasta Frost Blend at Velvet Cloud
At Velvet Cloud, we've made it our mission to provide the vaping community with the purest, healthiest high VG e-liquids for the ultimate vaping experience. Mt. Shasta Frost is just one of 21 all natural VG formulas which keep our many satisfied customers coming back for more. Natural peppermint, spearmint, and menthol ingredients are extracted from plant leaves and blended with a 99% pure VG base at our ISO7 clean rooms at Molecule Labs. 
At Velvet Cloud, we realize that the world of vaping is a world of healthy choices. We have flavors to satisfy tobacco aficionados, dessert connoisseurs, and fruit lovers. We even offer an unflavored VG base for those daring experimenters who like to come up with their own customized vaping blends. All of our signature flavors meet the highest standards of organic quality. We use the purest nicotine and the highest US grade ingredients with the most rigorous best manufacturing practices to ensure that our e-liquids all provide the healthy vaping experience our customers have come to expect from Velvet Cloud.