Mewlew's Magic E-Liquid: Perfect for Your Chocolate Cravings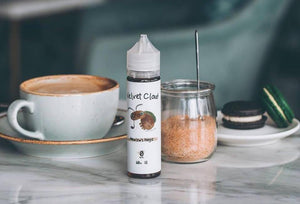 Mewlew's Magic: Perfect For Your Sweet Tooth
Many people have a sweet tooth, and while it may not be the best thing for your waistline, you can get your fix in a high VG e-liquid like Mewlew's Magic!
Remember growing up when you couldn't wait to finish dinner so that you could have dessert? You may have gotten older and wiser and keep dessert as a 'once in a while' treat but if you vape, but there is no reason not to be able to have your proverbial cake and eat it too. Instead of reaching for a piece of chocolate pie or butterscotch pudding, why not vape the flavor instead?
This decadent dessert flavored e-liquid is a delectable combination of chocolate, butterscotch, fudge, and cream. The blend of dessert goodness in Mewlew's Magic is like having that perfect dessert after dinner, though you may just want to vape it all day so that you can enjoy your chocolate anytime. It may have a funny sounding name, but you'll be coming back for more once you taste it!
Just imagine the creamy goodness of butterscotch with hints of cream and the decadence of chocolate and fudge that won't add extra calories to your diet. Seriously, if you love chocolate, then you can't go wrong with this flavor combination!
It's All About the Flavor
As we mentioned, the flavors are perfect for those who love their chocolate, and who doesn't? This combination has four distinct elements:
Chocolate
Fudge
Butterscotch
Cream
The inhale is a rich, silky chocolate and cream with a butterscotch exhale. Some people find that the butterscotch permeates throughout the vape, which is a good thing. No matter how you look at it or which flavor notes come first, this is one of the best dessert flavor e-liquid brands you can find.
What Do Others Think?
The reviews are overwhelmingly positive when it comes to Mewlew's Magic! The e-liquid has an overall rating of four and a half stars out of five out of 33 reviews on one site alone!
According to Vapolyptic:
The blend is seemingly preternatural - I did not anticipate the juice to be so... so flavorful, so rich, so silky smooth and decadent in every way imaginable. Mewlew's Magic capitalizes on each ingredient within, allowing each and every flavor note time to shine. In a dripper, the inhale was primarily chocolate and cream, with the butterscotch and dough taste on the exhale. The butterscotch permeates throughout every setup I tried, it is definitely the strongest flavor in the mix. In an RTA, it was a creamy, buttery vape, with chocolate lingering on each exhale. In a Kanger tank (sub tank to be specific) the doughnut/cream elements really shined - this dessert vape was not as creamy, boasting a rich, chocolatey bakery taste. To be perfectly honest, this was my favorite juice out of the bunch - it took a lot of flavors I loved and smashed them together with unrelenting success.
In fact, this reviewer rated it a 5/5 and claimed that it went above and beyond their expectations!
And then there's this review found on Reddit:
An amazing and enigmatic blend of chocolates, cream, butterscotch, doughnuts, and fudge.This juice was an instant favorite. It's complex, but not so much so that you get lost thinking about what's going on. It's just a very solid chocolate vape. When I first started vaping, I was interested in chocolate, and read a few places that it was very difficult to do and rarely executed well. If that's true, these guys really know what they're doing. It's dark, and just the right amount of heavy, with a chocolate that is somehow dark and milk at the same time. The exhale carries a bit of bakery with it, so you're left thinking of a chocolate doughnut, or perhaps the best chocolate muffin you've ever eaten. The butterscotch is there, but only in the very back, it serves its purpose by keeping the concoction from getting bogged down.
That reviewer rated it a 10/10, so you can see that the approval rating in real-time users is quite high.
Others who tried Mewlew's Magic stated things like:
"Vapor production is amazing"
"A whole blend of

 

dessert deliciousness"
"A predominately chocolate flavor"
"Warm and rich taste"
"Ready to go right out of the box"
"Great for an after dinner vape"
"Nice clouds, great flavor"
"Not overly sweet, but will get you hooked"
"A great go-to juice"
What Does it Mean to be a Signature Juice?
What makes Velvet Cloud stand out from the crowd is that every flavor is hand-crafted with an attention to every flavor note. All of our flavors, including Mewlew's Magic, are brewed in micro-batches in our certified ISO7 lab. We keep the bad things out like sugar, artificial sweeteners, food coloring, GMOs, preservatives, dairy products, diacetyl, gluten products, or any animal byproducts, and we make sure that every drop is organic, cruelty-free, and vegan. Our locally made, artisanal, ultra-high VG based e-liquid is made with care and patience; it is never mass produced, but rather made with attention to every little detail in order to make it the quality product we claim it be.
You'll also love the cloud production in this high VG e-liquid. If you love the smoothness that VG e-liquid gives you, this is the one to pick for plenty of flavor!
Savor the Flavor of Velvet Cloud
Sure, not everyone is a fan of chocolate, but for those who love it (and that's most of us) then Mewlew's Magic is perfection in an e-juice bottle. If you are ready to try out Mewlew's Magic Chocolate Butterscotch E-Liquid by Velvet Cloud, just check out the link. For any other information or to ask questions about what makes Velvet Cloud some of the best e-liquid flavors available, feel free to contact us so we can help or check out our FAQS page.
You can get Mewlew's Magic in 60ML and 120ML (2x60ML), and the nicotine levels available are 0MG, 3MG, 6MG, and 12MG. Don't forget to join the rewards program, too, so that you can save on future purchases!