How High VG E-Liquids Are Made: A Look at Vegetable Glycerin Juice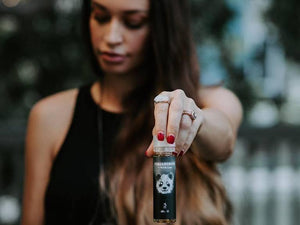 Healthy Standards for High VG E-Liquids
The majority of consumers venturing into the world of vaping are understandably motivated by health concerns. They're looking to put the well-known hazards of smoking behind them as they continue to enjoy the pleasant sensual experience and relaxation that vaping provides. For health-conscious consumers, it's imperative that the e-liquids they vape regularly are made from the best natural ingredients with the highest standards of quality control.
As a cigarette smoker, the flavor choices have always been severely limited. You have your pick of regular or menthol... and that's about it. Any distinct flavor variations between cigarette brands are negligible. A smoker looking for any more meaningful flavor experience would need to branch out into the arena of cigars and pipe tobacco - with even higher doses of hazardous tar and nicotine -  and that is simply not a healthy alternative.
VG based e-liquids open the door to flavors as distinct as Nutty Cookie, Frosted Gingerbread, and Peach Tea. For the tobacco flavor purist, Burley Beard and Tobacco Trio can fill the bill. But there can still be hidden health hazards in the vaping world for the uninformed e-juice consumer who might think he's found a bargain brand to fill the void left by giving up cigarettes.
Avoiding "Bathtub E-Juice"
For the entry level vaper, the multitude of choices in e-liquids can be somewhat overwhelming! As the massive move to vaping sweeps around the globe, so too does the proliferation of substandard e-juice "manufacturers." Unfortunately, the e-juice industry abounds with products made in back rooms, garages, and makeshift labs.
The dubious products these shadowy entities produce are known in the vaping world as "Bathtub E-Juice". As Daniel Knight points out in his informative article at Vape Gazette, the term, "bathtub e-juice" refers to e-liquid that could be mixed by anyone "just about anywhere using ingredients of unknown quality and with unknown production standards."
Needless to say, it's obvious that any product manufactured for human consumption needs to meet the most rigorous standards for quality control, and bargain basement "bathtub" brands should be avoided at all costs. 
Vegetable Glycerin vs. Propylene Glycol
For former cigarette smokers, the vaping world opens up a broad spectrum of flavor, scent, and vaping process options which they may not have anticipated. The first choice they'll face is the VG or PG question.
VG E-Liquid
Natural VG or vegetable glycerin is the e-liquid component, an all-natural plant extract, which makes the incredible variety of e-juice flavors possible.
It's highly probable that you're already a VG consumer as vegetable glycerin is a common ingredient in many food and cosmetic products. Vegetable glycerin has a texture somewhat like an oil or syrup. Its natural sweetness makes it the perfect alternative to sugar as it doesn't cause tooth decay and metabolizes differently to eliminate many other health complications related to sugar consumption. VG is added to lotions and shampoos for its humectant properties. That is, it attracts moisture to hydrate the skin. As the base for a vaping e-liquid, it provides rich thick clouds of vapor and its natural mild sweetness enhances the many unique blends of flavor in the popular Velvet Cloud line. 
PG E-Liquid
The alternative e-juice component is PG, propylene glycol, a harsher, faster-burning e-liquid which comes with a higher risk of allergic reactions and lingering throat irritation. PG vapor clouds tend to be thinner and harsher on the throat as opposed to the rich clouds and satisfying full mouth sensuousness produced by the more viscous VG e-liquids. PG vapers may find themselves drawing more frequently which can deplete the e-juice supply more quickly.
The natural sweetness and slower vaporizing characteristics of VG e-liquids tend to make for a much gentler throat hit with a lingering aftertaste for the extended satisfaction that lets you get "more for less", making your e-juice supply last significantly longer. You can get more details on the VG vs. PG choice at our "Guide to Why High VG E-Liquid is the Way to Go."
Velvet Cloud VG E-Liquids Formulated at Molecule Labs
All of our unique e-juice blends are formulated at Molecule Labs. With bathtub e-juice, you simply don't know how it's made, what ingredients go into the blend, or the state of cleanliness of the personnel and environment where the concoction is thrown together. When you vape with Velvet Cloud blends, you can put all those concerns aside. We're committed to providing the healthiest, highest quality e-liquids that keep our customers coming back for more. To fulfill that high standard we chose industry-leading Molecule Labs to formulate all of our unique 100% VG blends. So what qualifies Molecule Labs to meet our rigorous quality control standards?
AEMSA (American E-Liquid Manufacturing Standards Association) Certification
The AEMSA has set high standards for e-liquid manufacturing. AEMSA certified Molecule Labs meets all of the rigorous AEMSA requirements for:
Highest quality nicotine (for those e-liquids containing nicotine)
Highest quality VG (USP Grade Kosher Vegetable Glycerin)
Clean manufacturing environment
Accuracy of content
Tamper-proof packaging
You can download the complete AEMSA standards here.
ISO7 Certified Clean Room Manufacturing Environment
Molecule Labs uses a state-of-the-art ISO7 certified clean room for all of their meticulous e-liquid manufacturing processes. High-efficiency particulate fans eliminate any possible sources of airborne contamination by providing positive air flow to produce over 40 complete air changes in the clean room per hour. Formulations at Molecule Labs use only US sourced flavorings, USP grade kosher Vegetable Glycerin, and Nic Select 100% nicotine (when required) for each unique Velvet Cloud blend. 
GMP (Good Manufacturing Practice) Compliant
Molecule Labs is GMP compliant. That means that all of the lab personnel have met the highest standards for training, clean procedures, and e-liquid manufacturing expertise. The ISO7 clean room facility uses semi-automatic sanitary filling machines to ensure e-liquid purity. Raw ingredients are verified, batch, coded, and documented for every production cycle.
GMP compliance, AEMSA, and ISO7 Clean Room certifications at Molecule Labs all combine to ensure that every Velvet Cloud product you purchase is the cleanest e-juice available, manufactured to the highest standards of e-liquid purity.
About Velvet Cloud VG E-Liquids
At Velvet Cloud, we're dedicated to providing the healthiest, purest, cleanest VG e-liquids with a unique and varied selection of incredible flavor sensation that's sure to enhance your vaping experience. Our customers come back for more because they can rely on the Velvet Cloud standard for purity and quality. You can check out our all natural sugar-free, GMO-free, gluten-free lineup of VG e-liquids here and be on your way to expanding your vaping horizons today with an e-juice product you can trust.