Handcrafting the Best Vape Juice on the Market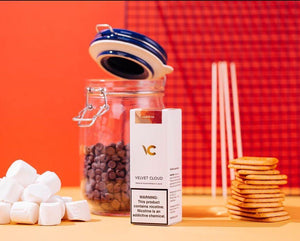 At Velvet Cloud, we believe that what goes into our e-liquids is just as important as the flavors that come out. That's why we hand select all our ingredients and perfect our recipes to always be vegan, sugar-free, artificial sweetener and coloring-free, GMO-free, and gluten-free. We also use as much natural ingredients whenever possible, unless those ingredients would need to come from an animal, in which case we choose vegan alternatives. We do this because we take pride in supporting the planet's creatures alongside making the best max vg vape juice on the market, and we know you take pride in using it.
The best max VG vape juice isn't just an e-liquid with quality ingredients. It has to taste amazing, too. We build all our artisanal recipes with an ultra high VG base that provides a natural sweetness to our carefully crafted flavors without the need for sweeteners or sugars. Each flavor is carefully layered to give off not only an amazing taste but a richness and depth that you just won't find anywhere else. One hit from one of our rich flavors like Night Shift will take you on a flavor journey as deep as biting into a fresh café donut and washing it down with your pre-shift cup of joe.
The unmatchable experience of a Velvet Cloud e-liquid is what sets us so far above the rest, and we've crafted a little something for everyone. For those with a bit more of a sweet tooth, our famous dessert flavors are guaranteed to please. Whether you're looking for a simple sweet treat like our Caramel Swirl to take you back to your childhood or a rich indulgence like Mewlew's Magic to celebrate a job well done, we've got your cravings covered.
Get a taste of summer freedom any time of the year with our beloved Campfire e-liquid flavor. This classic blend of toasted marshmallows, crunchy graham crackers, and rich milk chocolate combines to give you the full s'mores experience that's become a crowd favorite among our customers. People love to use this vape to take them away to their favorite summer camping grounds in rain or shine or even snow!
The flavors are subtle enough to blend together rather than one flavor overpowering the others – instead it tastes like the marshmallow has melted into the chocolate and spread out over the crunchy backdrop of semi-sweet graham crackers. We all have our own preferences for how roasted a marshmallow should be, but everyone who's tried Campfire can agree it's the perfect s'more.
If your dream dessert is more of the silky creamy variety, then you'll probably be drawn to our Vanilla Custard instead, and for good reason. We've handcrafted this warm and dreamy flavor to take us back to simpler times spent in a fragrant kitchen eagerly waiting for our favorite dessert to be served. Sweet, smooth, and rich, Vanilla Custard is loved as an all day vape by hundreds of users worldwide. We carefully crafted this blend to weave together the lightness of vanilla with the reach creamy texture of custard to make a perfectly balanced dessert vape that tastes amazing on its own or blended with our other dessert or fruit e-liquids.
When many people think of the best high end vape juice, fruit is, of course, the first thing on their minds. Who doesn't love going down to the farmer's market and gathering up bushels of fresh, organic berries? The great feeling of sitting out under the summer sun and biting into crisp strawberries is exactly the kind of experience that inspired our Harvest Berry flavor.
Mixing together crisp, tart, and tangy berries like strawberries, blueberries, and raspberries together with just the right hint of cherries to balance it all out, we created the perfect fresh and flavorful blend to capture the freshness and innocent joy of the summer season, available to you any time of the year.
Speaking of summertime sweetness, our Melonomenon blend of honeydew, peach, and cucumber is the perfect way to cool off on a hot afternoon. The gentle sweet tastes of these summer favorites mix together to make a subtle yet lingering flavor that'll leave you feeling totally refreshed. It's great for days when you need to take some time to yourself and just relax, like an at-home spa experience you can taste.
We're always working hard to bring you the best ultra VG vape juice, whether you live across town from us in Portland, or across the world! You can order just a few one-time bottles to test out flavors and find the best flavors for you or subscribe to a recurring order of your favorite e-liquid and save!
We even offer wholesale options for stores looking to bring our gourmet flavors to their customers. If you'd like to see Velvet Cloud in a store near you, let us know! We'd love to get in touch with your favorite shops and share our artisanal flavors with more people like you.