Get Away From it All With Our Campfire E-Liquid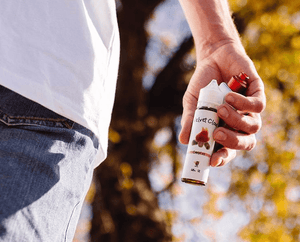 Do you remember when you were a little kid and felt like you were going to burst with excitement the moment your parents said that you were all going on a camping trip? There's nothing better than bonding with the people you love underneath the stars. In fact, if you close your eyes and take a deep breath you can probably still see yourself in the woods cuddled up next to a fire drinking hot cocoa right now!  
We can all agree that some of our best childhood memories involved gathering everyone around the campfire to play silly games, sing songs or tell spooky stories. Now that we're looking back, isn't it funny how stories that wouldn't usually frighten you during the day could make your heart pound in fear at night over a roaring campfire?
Of course, one of the best parts about camping as a kid (besides telling scary stories) was making the perfect s'more. Back then there was nothing more satisfying than eating rich chocolate bars, graham crackers, and gooey marshmallows in one delicious sandwich by the campfire. This was especially true if your parents didn't really approve of you eating junk food at any other time. The only thing more fun than making a s'more and trying not to burn it to a crisp or accidentally drop it into the fire, was gulping it down and greedily licking the sticky marshmallow goo off your fingers. 
Although you may be a little bit older and wiser now, who says you still can't enjoy the taste of yummy marshmallows, mouth-watering chocolate, and crispy graham crackers? Even if you never had the opportunity to make s'mores over a glowing campfire as a child, you can still recreate the experience today as an adult with our signature Campfire e-juice blend.  
Check Out Our Signature Campfire E-Liquid Blend
We know that camping is one of America's favorite pastimes. That's why we decided to make a Campfire e-liquid juice blend that could bring back those fond memories. Campfire makes it possible for you to enjoy a tasty s'more without having to travel to the nearest campground or build a fire. Basically, vaping our Campfire e-liquid blend is one of the easiest ways for you to get away and unwind, all without having to pack a bag or pitch a tent. 
Our in-house vape chef helped us create the signature vape blend by mixing several different toasted marshmallow, graham cracker, and chocolate flavors in one delicious combination. Now, Campfire is considered one of our most beloved flavors of all time by our customers!
A Closer Look at The Ingredients Inside Our Campfire E-Liquid
Health is very important to us. That's why we do not use any of the following ingredients in our Campfire e-liquid products: dairy, animal byproducts or gluten. The Campfire e-liquid blend also does not contain any sugar, Genetically Modified Objects (GMOs), diacetyl, artificial preservatives or other potentially harmful ingredients. We only believe in creating all-natural, vegan products that will not harm the environment.
We make our signature Campfire e-liquid blend with premium toasted marshmallow, graham crackers, and chocolate flavorings. Our e-juice blends also contain distilled water and pure 100% Vegetable Glycerin. 
How We Make Our Signature Campfire E-liquid Blend
Our products are made in a local ISO-7 certified laboratory that allows us to maintain strict quality standards. The ISO-7 certification means that our brews are made in a clean room or a facility that is specially designed for industrial production and scientific research.
We brew Campfire and our other e-liquid blends in smaller batches so the flavor will be potent and consistent. We've also invested in a company vape chef so that we can continually produce e-liquid that is unique to our brand.
Try Our Campfire E-Liquid Blend Today
When you try our Campfire e-liquid blend, you'll probably understand why it's considered one of our most popular, best-selling flavors of all time after just one vaping session. If you haven't tasted our beloved Campfire blend yet, please should give it a try! You can stock up on the e-juice blend for yourself or give it as a gift to a loved one this holiday season. We also donate a percentage of every purchase to several charities, like wildlife charities, that are near and dear to our hearts. 
Buy Campfire and Other Premium High VG Blends at Velvet Cloud
If you are looking for premium e-liquid with a  high Vegetable Glycerin that's also vegan and cruelty-free, there isn't a better brand on the market than Velvet Cloud. In fact, we believe our customers keep coming back to use because they know that we only care about using fresh, healthy ingredients.  That is why you'll never have to worry about us making e-liquid that contains toxic or potentially harmful chemicals. We only use a natural Vegetable Glycerin base and don't add any food coloring or artificial sweeteners. Since every product is gluten and sugar-free, you can vape as much as you want without your health.  
Velvet Cloud was originally founded in 2011 by Aria and Julia. Although the company was based in San Francisco before, we have recently decided to move our headquarters and laboratory to Portland. We love this area because it truly supports and celebrates small businesses and people who make artisanal goods. 
Aria and Julia decided to start Velvet Cloud because they wanted to develop premium Vegetable Glycerin e-liquid that is also delicious and one-of-a-kind blends that were dreamed up by our vape chef. We're proud that you won't be able to find our blends anywhere else! Every ingredient in our e-liquid is hand selected. As the demand for our products has increased over the years, we've started to expand our business to include more flavors at affordable prices. Before we sold our e-liquid products locally, but now we ship our products to customers nationwide and all over the world!
Well, what are you waiting for? Try our Campfire e-liquid blend and join the Velvet Cloud family today!