E-cigarette Batteries: Our Most Frequently Asked Questions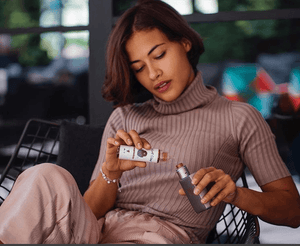 When you are yearning to smoke your Premium High VG e-liquid, the last thing you want is to have is a dead e-cigarette that needs to be charged. If you're new to vaping, it's important that you learn how to take care of your equipment so that it can last for a long time. Below are some of the most frequently asked questions we receive from customers about e-cigarette batteries and other useful advice that will allow you to make them last longer.
What Are E-Cigarettes Batteries Made From?
E-cigarette batteries are usually made from lithium, which is the same material as cameras or household clocks. Lithium batteries are popular with e-cigarette manufacturers because they usually can hold a charge longer than other types of materials.
How Do E-Cigarette Batteries Work?
Have you ever wondered exactly how your e-cigarette worked? Many e-cigarette models have an LED (or light-emitting diode) light that will start to glow when it's in use. The battery will start to heat up the e-liquid inside the tank, which quickly turns it into vapor so you can inhale it. Some e-cigarettes may also light up to give you a warning when the battery needs to be charged.
What Are The Different Types of E-Cigarette Batteries?
There are two types of e-cigarette batteries. Depending on your specific equipment, your e-cigarette may have automatic or manual batteries. E-cigarettes with manual batteries require you to touch a button to turn it on before you can start to inhale the vapor. Meanwhile, e-cigarettes with automatic batteries have a pressure sensor that can detect when someone is using it. Usually, manual batteries are larger than the automatic ones.
If you're impatient and like to be on the go, you may prefer an e-cigarette with an automatic battery since they typically charge in a shorter amount of time. It also gives you an experience that's more similar to smoking since you just have to inhale to get it to work.
How Long Do E-Cigarette Batteries Usually Last?
That answer varies depending on your device. E-cigarettes with larger batteries usually last a longer amount of time in between charges. So if you're going on a trip or somewhere you know you won't have access to a charger, grab the larger e-cigarette. Another factor that may influence the duration of your battery is how often you use the device. With the proper care, your e-cigarette can last for a considerable amount of time.
How Long Does it Take For E-Cigarette Batteries to Charge?
Do you have a habit of letting your e-cigarette charge overnight while you sleep? Everyone's done it at one time or another, but leaving your e-cigarette on the charger too long can actually cause more harm than good. Most batteries only need a couple of hours for them to fully recharge themselves. When in doubt, just contact the manufacturer of the e-cigarette to find out how long you should charge it.
Should I Buy Extra Batteries?
It's always good to have some spare batteries on hand just to be on the safe side. There's nothing worse than wanting to take a quick hit and realizing that your e-cigarette needs to be recharged. We recommend that you keep at least one or two on standby just in case of emergencies. Just put them in your pocket and you'll never have to worry again about missing a smoke or not having access to a charger.
How Do I Find A Good Supplier for My E-Cigarette Batteries?
First, check out your local smoke shop to see if they have any in stock. If you don't mind paying for shipping, you can also buy it online. Search the web for different comparison websites that discuss different online stores that sell e-cigarette batteries and equipment. Make sure you check to see if they have any reviews or testimonials from customers so you can know if they are trustworthy before you make a purchase.
If you're not sure which battery to buy, ask their customer service team what you should purchase. They should be able to point you in the right direction so you can buy with confidence. Remember, when you find a good deal on e-cigarette batteries you should stock up! That extra purchase can really help you when you're in a bind and your e-cigarette needs to be recharged.
Do You Have Any Other Advice About E-Cigarette Batteries?
Lastly, we recommend that you don't strain your battery by swapping it out with other devices that it was not intended for. This may increase your chances of the battery malfunctioning and other serious consequences. Another tip we suggest is to store the batteries for your different equipment in separate areas.
In Conclusion
We know how confusing it can be to learn about vaping and e-cigarettes and the best way to take care of your equipment when you're first starting out. Hopefully we've helped clear up some of your questions on your e-cigarette batteries is made of and how to make it last.
Shop Our Unique E-Liquid Store
Interested in learning more? Please contact us today for more information. Our company, Velvet Cloud, specializes in producing e-juice with a natural VG base that doesn't have additional coloring or artificial sweeteners. Feel free to look around our online store at our different vegan-friendly e-liquid flavors. Our e-liquid is only made with premium ingredients brewed in our own certified ISO7 lab. Please note that all of our products are cruelty-free and never tested on animals.
Besides creating awesome products, we're also doing our part to help the world. Every time you make a purchase we pledge to share a portion of the proceeds to several charities that work with different wildlife and animal rescue groups. Just contact us if you would like more information on how you can help. Want to suggest a charity or non-profit organization? Tell us about it! We're always on the lookout for additional ways to support great causes that our customers love and appreciate.