Details and Rave Reviews About Our Campfire E-Liquid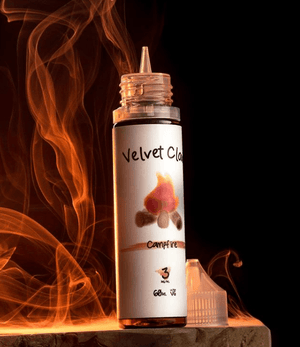 With over 7,700 e-liquid flavors available, the prospect of offering a VG e-liquid flavor that stands out from the crowd may seem daunting. But the e-liquid connoisseurs at Velvet Cloud continue to delight even the most seasoned vaping experts. Among our most enticing e-liquids is the Campfire S'mores Style Dessert e-liquid, which features a savory blend of chocolate, toasted marshmallow, and graham crackers. Below is a look at the Campfire e-liquid and some of the many reasons why it is heralded by many reviewers as one of the best dessert e-juice flavors of all time.
What is Campfire E-Liquid?
Campfire e-liquid is a smores e-liquid that will make your mouth water just hearing about the ingredients. Known as one of the most beloved flavors in Velvet Cloud history, Campfire offers a delectable combination of the ingredients used to make one of America's favorite snacks. With a smooth chocolatey-marshmallow base and a hint of graham cracker, Campfire takes users back to the campground where they first fell in love with S'mores. 
What Makes Campfire Such a Great Dessert E-Liquid? 
"The availability of fruit, candy, and dessert-flavored e-liquids has changed the face of vaping in the past 10 years, as the practice has morphed from a way to quit smoking into its own industry." 

- Peter Hess, Inverse.com
Campfire makes it possible for people to enjoy their favorite tasty S'mores treat without having to hike to the nearest campground and build a fire for marshmallow toasting. Like all Velvet Cloud e-liquids, Campfire is brewed in small batches to maximize flavor. Using a selection of premium ingredients, Campfire has become one of the most coveted flavors in the dessert e-liquid industry.
The Taste is Out of This World, but What About Quality?
Campfire and our other e-liquid flavors are proof that great taste and superb quality can co-exist in the e-liquid industry. Our firm commitment to quality is the cornerstone of our success. We brew Campfire and their other e-liquids in an ISO-7 certified laboratory, which means that we must adhere to the most stringent quality standards. Our impeccable San Francisco location is a testament to our dedication to satisfying customers' desire for a top-notch e-liquid experience. 
Campfire E-Liquid Contains No Artificial Sweeteners or Additives
When you taste Campfire e-liquid for the first time, you can enjoy the delectable chocolate marshmallow e-liquid taste knowing that the e-liquid was brewed without artificial sweeteners or additives. Additionally, Campfire contains no diacetyl or other harmful food colorings:
"There can be hundreds of flavor additives in any given vape juice, with concentrations that range from trace amounts to large fractions of the whole e-liquid. Their toxicity profiles vary widely as well."

- Diana Crow, The Atlantic
Campfire's blend of organic and natural ingredients helps to ensure that people who use it refrain from harming the environment. Free of animal by-products and harmful chemicals, Campfire features a natural VG base that is without preservatives.  
What do Verified Buyers Have to Say About Campfire?
There are many reasons why Campfire is lauded as a favorite by people who have tried it. From its ability to help you envision an outdoor ambiance to its unique blend of sweet ingredients, Campfire is one of our most popular flavors. Some people are drawn to Campfire's ability to conjure up a woodsy ambiance:
"Do you like camping? Then you'll love campfire! If you close your eyes you can almost picture yourself in the woods sitting next to the fire. Great flavor, as always.

 "
-

 

Danielle C.
While some people love the way that Campfire helps them recreate a camping ambiance, others simply love Campfire's unique blend of chocolate, marshmallow and graham crackers:
"So I found Velvet Cloud and LOVED my first purchase...vanilla custard. I have been on a whirlwind trying all the flavors. Let me say I haven't found any I don't like but CAMPFIRE IS MY FAVORITE. It's perfectly sweet, not too much and I love the Graham cracker and mild chocolate flavor. So so delicious."

- Katherine D. 
As if taste and ambiance were not enough, other buyers love the quality and consistency of Campfire e-liquid. Buyers such as Joseph A. point to Campfire's ability to satisfy their taste buds even more today than in years past:
"Got some of this year's ago but have pretty much stuck to the tobacco and vanilla custard flavors. Got a 30 ml during the black Friday sale. Still as good, if not better, than I remembered. Shows the quality of the juice when the flavor stays consistent over the years. Quality juice and service at reasonable prices from VCV." 

- Joseph A.
How Easy is it to Try Campfire?
Trying Campfire for the first time is easy! Most orders are processed in a matter of a few days and can be quickly shipped to the U.S. address of your choice. People across the globe enjoy Campfire and our other flavors, so just let our team know if you have questions about obtaining Campfire in another country. If for any reason you are not satisfied with Campfire, we offer customers a fair return policy that allows for refunds or exchanges as long as your return is received within 30 days. As a testament to our desire for continued quality improvement, our team also welcomes your feedback about your experience with Campfire.
The Bottom Line
Campfire has established itself as a legend in the e-liquid industry. There are many reasons behind Campfire's popularity as a dessert e-liquid, including its unique S'mores-like taste and its ability to help you feel as if you are enjoying a sweet treat at camp around a crackling fire.
To learn more about the many reasons why Campfire is so popular, we invite you to check out Campfire's reviews for yourself. If you decide you are ready to enjoy Campfire's delectable flavor yourself, we make it fast and easy for you to place an order. Check out Campfire and our other premium e-liquid flavors today - we look forward to hearing from you!