Get Coffee and Donuts Any Time of Day With Night Shift!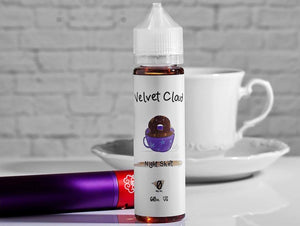 Coffee is one of the most loved drinks in the world. In the United States alone, the stats show that 64% of the population has at least one cup a day with 11% who have at least four cups. The average is 2.7 cups a day, so no matter how you look at it, that's a lot of coffee!
Let's face it, there's really nothing like the full-bodied flavor of hand-roasted coffee. When you add the taste of a fresh donut or two, you have a combination that is a favorite of many - no matter what time of day! Whether you love going to a coffee and donut shop or like to brew your favorite beans at home with a box of your favorite brand of donuts, you can now enjoy the experience in a vape with Night Shift. It's the best coffee-and-donut-flavored e-liquid available!
Night Shift E-Liquid
So, what's the best way to describe the enchanting flavors of Night Shift?  Imagine it like this:
A coffee vape finally done right and in a class of its own. Night Shift is an intriguing blend of rich, dark roast coffee and a semi-sweet chocolate glazed donut, topped with a hint of velvet cream that adds just the right amount of depth, thickness, and complexity.
This is a blend of chocolate, coffee, and everything good about a morning ritual. The smell is intoxicating and the blend is exactly representative of the name.
The Flavor Blends
Night Shift e-liquid has two major flavor combinations with notes of a third. Here is what to expect:
Coffee: A rich,

 

dark roast

 

is to be savored in this coffee e-juice. It's a bolder, richer taste with dark roast, and that is what you get in this

 

coffee-flavored e-juice.

Chocolate Donut: This flavor is a semi-sweet chocolate glazed donut - just like the kind you find at the donut shops. Not too sweet and not too plain - just the perfect combination that gives you a sweet yet lighter taste than other donut flavors.
Velvet Cream: There are just a few notes of the velvet cream, perfect for more complexity, depth, and thickness. It's not overwhelming, but instead provides a distinct little extra that rounds out the entire e-liquid taste.
Positive Reviews are Prevalent
Night Shift e-liquid has some of the best reviews around. Here are just a few things that people are saying about this custom blend.
Here is a review from All Things Vaping:
From the smell of things I figured I knew exactly what I was in for and frankly I was right. Velvet Cloud Vapor's description of this product hits the nail on the head so hard they should be charged with manslaughter. The chocolate flavor is so rich and creamy I may as well be eating what I'm vaping and the coffee undertone literally taste like Colombian dark roast coffee with a hint of French vanilla creamer. High quality doesn't even begin to describe this products clean and natural tastes. Amazing perhaps? Fantastic even? No, that's still not fitting. Perfection; yeah, there we go.
And from All Day Vape:
Whether loaded into dripper or RBA, Night Shift starts with a blast of a donut flavor – think a plain unglazed – especially when the juice is fresh. It's caramel, crisp dough, and a touch of sweet. The flavor then melds into a sweet chocolate icing, much like its smell. This isn't a rich chocolate flavor. Rather, Night Shift presents as a cheap, sweet icing and sprinkles. I mean this in the best way possible; Tim Horton would be proud.
A few more key points:
"Simply heavenly"
"Just perfect"
"An excellent all-day vape"
"Perfect for all day"
"This stuff is chocolate and coffee heaven"
"If God vapes, this is what he fills the tank with"
"Very delicious taste of both chocolate and coffee"
"Awesomely smooth vapor taste"
As another person stated, "It's well-balanced and I love the mix of coffee and hints of cocoa." Night Shift has an average review of 4.5 stars out of five in 1019 reviews. You know with that many reviews that the results are a solid sample of what people really think about this coffee vape and donut e-liquid.
A Handcrafted Coffee Vape
All of the e-juice at Velvet Cloud is crafted with the utmost attention to detail and perfection. Every mouthwatering flavor is a natural VG base with nothing extra added. There are no sugar or dairy products. In addition, there are zero added artificial sweeteners, food coloring, GMOs, preservatives, dairy products, diacetyl, gluten products, or animal byproducts. Instead, this locally made, artisanal, ultra-high VG based e-liquid is organic, cruelty-free, and vegan.
The ingredients are hand-picked goodness. We make our products right here in San Francisco, but they are enjoyed all around the world.
What We Offer
Here at Velvet Cloud, we are committed to offering super fast shipping, premium quality e-juice at a price that is affordable, and the best customer service possible. Furthermore, a portion of our proceeds goes to various charities, including wildlife and animal rescue groups.
We offer signature flavors in dessert, fruit, tobacco, menthol, and unflavored choices.
Night Shift - THE Vape for Coffee Lovers
If you love coffee and donuts, then this is the vape for you! If you are ready to try out Night Shift e-liquid by Velvet Cloud, just check out the link. For any other information or to ask questions about what makes Velvet Cloud the best in the business, feel free to contact us so we can help, or check out our FAQS page to learn more about what we offer.
You can get Night Shift by Velvet Cloud in 60ML and 120ML (2x60ML) sizes, and the nicotine levels available are 0MG, 3MG, 6MG, and 12MG. Don't forget to join the rewards program, too, so that you can save on future purchases!