Introducing Catherine the Grape, the Best Grape-Flavored E-Liquid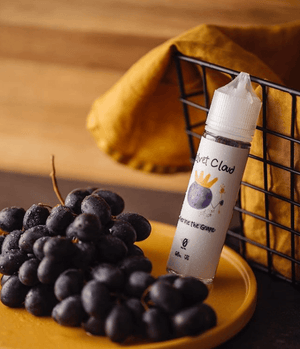 Americans love wine - especially red wine. So it's not a surprise that the e-cigarette industry now offers a host of wine e-cigarettes and grape-flavored e-liquids. However, not all wine e-liquid is created equal. Some are naturally flavored with organic ingredients while others are full of overpowering artificial colors and flavors that can detract from the rich taste of red wine. Below is a look at the reasons why Catherine the Grape Fruit Flavor e-liquid has risen to the top of the list of wine e-liquid flavors. 
The Emergence of Grape-Flavored E-Liquid 
"Analyzing the results of online surveys from 20,836 adults in the US who frequently use e-cigarettes, they found that people's first e-cigarette purchases have dramatically shifted away from tobacco and menthol toward fruity flavors."

- Peter Hess, Inverse.com 
E-cigarette users are buying more fruit-flavored e-liquids than ever. And with grape being one of the most popular fruity flavors of all time, the e-liquid industry is bursting with grape flavored e-liquids. Over the past decade, these grape flavors have evolved to encompass a growing number of wine e-liquids to satisfy red wine connoisseurs. 
How did Catherine the Grape Earn Her Regal Name?
Catherine the Grape is not your run of the mill grape flavored e-liquid! With a sophisticated, full-bodied flavor, Catherine the Grape offers a stellar blend of sharp blackcurrant and fruity sweetness. Her high VG formula and tart flavor are fit for a queen, yet also perfect for everyday enjoyment. While definitely deserving of a regal name, Catherine the Grape is beloved by all types of people across the globe.  
The Taste is Fit for a Queen, but What About the Quality?
The delectable taste of Catherine the Grape makes it fit for royalty and its quality is just as impressive. Like all of our other e-liquids, Catherine the Grape is brewed in micro-batches to maximize flavor and quality. All brewing occurs in an ISO-7 certified laboratory, which means that your e-liquid has been made at a facility that must adhere to the strictest quality standards and regulations. As a result of our commitment to outstanding quality, we have established Velvet Cloud as a leader in the e-liquid industry.  
Why is Catherine the Grape so Popular Among Verified Buyers?
Catherine the Grape's popularity has soared for many reasons. E-liquid aficionados appreciate its superb taste and quality, but also love Catherine the Grape because it is a clean VG e-liquid that is made without diacetyl or other additives. Below are three of the many reasons why Catherine the Grape is in such high demand:
1) It Offers a Delicious, Additive-Free Vaping Experience
"I have fell in love with grape flavor juice from my first day as vaper. I have searched for long time to find something that had great flavor but also clean juice that is made without unnecessary additives. "Catherine The Grape" is exactly what I have been looking for! It's not overwhelming with flavor which makes it easy to vape all day."

- Rino H.
E-cigarette users across the globe are increasingly seeking e-liquids that are made without harmful additives or chemicals. Catherine the Grape's combination of natural and organic ingredients gives you the peace of mind that you are enjoying an e-liquid that contains no animal by-products, preservatives, or diacetyl.  
2) It Produces a Wine-Like Experience That is Not Too Overpowering
"I don't know what Catherine's secret is, but she's got me by my little finger! This juice is so perfect. It's an unusual mix of sour grapes and natural flavours. It does have a 'wine like' element, but not in an overpowering way. Like I said I don't know what makes this liquid so perfect! VC must use a special magical ingredient to make it!"

- Ashleigh D.
Creating a smooth, wine-flavored e-liquid requires experience and a commitment to developing the perfect blend of sweetness, sour grapes, and natural flavors. Through their years of leadership in the vaping industry, we have mastered the art of producing the perfect wine-like experience.
3) A Natural Grape Taste That Satisfies the Taste Buds
A great wine-like experience and an additive-free blend are key qualities that make Catherine the Grape stand out. But other vaping connoisseurs love Catherine the Grape because of its natural, organic grape taste. One enthusiastic buyer described Catherine the Grape as organic grapes that are "dipped in syrup" and "boiled to perfection":
"It's good dog. Real good. But on a more serious note, the flavor is that of natural grape. This cannot be stressed enough. It tastes like some organic grapes, just before they are ripe, being dripped in syrup form into your RDA and boiled to perfection. This is my adv and favorite ejuice. I urge you all to dive into this one."

- Mbattrick
Trying Catherine the Grape is Easier Than Ever
The professionals at Velvet Cloud make it easy for you to find out for yourself why Catherine the Grape is so popular among e-cigarette users. Buyers can choose from three different versions that contain varying concentrations of nicotine (12 mg, 6 mg, or 3 mg) or can opt for a nicotine-free version of Catherine the Grape. You can easily place an order online and then sit back and enjoy the anticipation of receiving your grape flavored e-liquid within a matter of days. And while our e-liquid experts at Velvet Cloud feel confident that you will be thrilled with your purchase, you have the option of returning your purchase for an exchange or refund within 30 days if you are not satisfied. 
The Bottom Line 
Catherine the Grape has achieved royalty status in the e-cigarette industry. With its exquisite pinot noir grape taste and additive-free blend, Catherine the Grape is winning the hearts of sophisticated and new e-liquid users alike. To find out why Catherine the Grape is a favorite among the best fruit flavor e-liquid options, we invite you to read some of the many reviews posted by verified buyers. We hope you will decide to try Catherine the Grape yourself and treat yourself to a royal vaping experience!