Buy the Best VG Juice from Velvet Cloud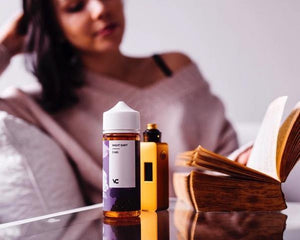 If you are an avid vaper, you like to get the best quality e-juices to make your experience that much better. Getting premium e-liquid that is completely free of preservatives, GMOs, gluten, sweeteners and all of the things that can take away from this experience can be difficult.
Luckily, there is a solution for finding the best VG juice that gives you smooth production with great flavors. Velvet Cloud is here for you with a variety of flavors and unique creations, offering premium e-liquid that satisfies.
What is the significance of a pure VG e-liquid?
First it is important to know what VG means. VG stands for vegetable glycerin. This is one of the two most common e-liquid bases.
Basically, if you have ever seen another vaper enjoying a liquid that produces a large billow of vapor, this is a VG based liquid. A VG liquid is all-natural, made from vegetable oils that make it a safe choice for vegetarians. The thickness is what makes it stand out to vapers. It also has a sweeter natural taste.
VG juice is also considered to be generally safe and widely regarded as a benign substance. It has low toxicity and low potential to irritate the skin or eyes. The use of VG in food and medicine also suggests that it is very safe. There is also low risk of being allergic to VG juice.
VG liquid also provides little throat hit and a smooth inhale, which should allow things to be easy and comfortable for you in your vaping experience.
At Velvet Cloud, not only will you find the best VG juice for sale, but you will also find several unique flavors.
Velvet Cloud offers special dessert flavors that are perfect for your sweet tooth. With delectable tastes like the s'mores flavor of Campfire, the sweet taste of Frosted Gingerbread, the creamy taste of Vanilla Custard or the cookie cravings you will satisfy with Nutty Cookie, you can feel delighted with the delicious taste of a dessert e-liquid.
We also offer signature fruit flavors that are one-of-a-kind. From our Peach Tea to Harvest Berry or the truly special Melonomenon flavor, these blends of the finest gourmet fruit will transport your experience. These are not like other fruit flavors and juices, offering mouthwatering flavor that tingles your sense.
If you prefer a tobacco or menthol flavoring, Velvet Cloud offers some of the best. Our personal e-juice chef uses premium tobacco while infusing distinct flavors that are sweet, fruity and minty for a different take on a traditional flavor.
Finally, Velvet Cloud also offers an unflavored base that is the same e-liquid used in all of our creations. This allows you to add your own flavors and create your e-liquid. Of course, if you prefer an unflavored liquid, you can use this on it's own and simply get the natural sweetness from the completely VG liquid.
If you are looking for the best VG juice, look no further than Velvet Cloud. Our juices are e-juice done right, with an all natural VG base, vegan friendly, no added coloring or artificial sweeteners, is sugar free, GMO free and gluten free. We put nothing weird into our juices so you get only the most natural and best VG juice to make your experience that much better.
Velvet Cloud was founded in 2011 in San Francisco, bringing together unique flavors with the highest quality ingredients. Our goal was to be a locally made, artisanal e-liquid creator that put a focus on having an ultra high VG base. Recently, we relocated to Portland, OR in an effort to take our business to a larger scale. We have seen our demand increase and are offering blends to the industry.
Velvet Cloud ships wholesale both domestically and internationally. With three warehouses located across the country, we can get you wholesale product fast and easy. If you own a vape shop and want to get started in selling Velvet Cloud products wholesale, send an email to wholesale@velvetcloud.com or if you are a vaper who loves our products and want them to be available in your local vape shop, feel free to let us know and we can reach out to them. Velvet Cloud is e-juice done right and we are always looking for new creations and flavors to make your experience that much better. Through it all, we continue to use premium ingredients of the highest quality and brew all juices in our own lab. So start shopping at Velvet Cloud and treat yourself to the best VG juice for a new experience or get some for your vaper friends and family. Our goal is to satisfy our customers with a flavor that keeps them coming back for more. Check out our specialty and signature flavors and get yours today!