The Best Vape Mods For the Best VG E-Liquids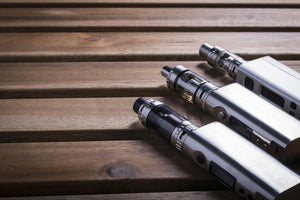 Enhance Your VG Vaping Experience With the Best Vape Mods
So you've done your vaping homework and come to the informed (and correct) conclusion that vegetable glycerin (VG) e-liquids are the healthiest choice for leaving the hazardous habit of tar-saturated smoking behind you. And what a world of choices there are in the vaping world! For cigarette smokers long confined to the restricted market of "regular or menthol" and "Kings or 100's" the incredible variety of flavors and nicotine concentrations is an invitation to expand their sensual horizons. But the expansive range of flavors is just one variable. The vaping hardware industry also introduces a veritable catalog of device choices. 
Cigar and pipe smokers may be searching for the epic clouds they associate with a relaxing meditative experience, and VG rich e-liquids are certainly the most fulfilling means toward that end regardless of the type of hardware preferred. At Velvet Cloud, we offer a selection of 21 unique, high VG signature e-liquid blends with a range of flavor variety and nicotine levels formulated to match your individual healthy vaping goals. Naturally, you'll want to enhance your experience by vaping your Velvet Cloud e-liquids with the best vaping devices available.
Vape Mods Depend on Preferences
When selecting the most appropriate vaping mod, it's helpful to clarify your personal preferences. Vapers who seek to leave cigarettes behind may be perfectly content with a discreet pocket-sized vape mod which delivers a quick and satisfying vapor draw while providing an element of privacy. For them, voluminous clouds are not a priority. A pipe or cigar smoker looking to envelope himself in rich aromatic clouds while he enjoys a barrage of high VG flavor will likely prefer a more powerful device with a larger e-liquid supply for luxurious uninterrupted vaping. 
As they make the transition from novice to vaping connoisseur, most experienced vapers avail themselves of several vaping devices for the versatility to suit all scenarios; from the quick coffee break vape during the workday to the relaxing Sunday morning session with feet up in a sensuous stress-free cloud. Below we'll take a look at some of the best vaping mods available today.
SMOK AL85 TFV8 Alien Baby Starter Kit
The Alien Baby is perfect for vaping beginners and experienced vapers looking for a portable but powerful mini-mod. Assembly is quick and user-friendly with color-matched O-rings, and the .4 ohm coil comes pre-installed. The kit includes spare o-rings and gaskets and a .6 ohm replacement coil.
According to the detailed review at ecigguide, the Alien Baby provides "super-intense flavor" and "rocks with performance and consistency". Leaks and the dreaded throat-burning "dry hit" are both avoided with the well-engineered Alien Baby. The .6 ohm coil is perfect for vaping high VG liquids, and reviewer Dave Allan, a former pack-a-day cigarette smoker, rates the Alien Baby vaping experience as "incredible." 
XEO Void E-Liquid Vape Pen Kit
The XEO Void vape pen is prominently at the top of the list for convenient pocket-sized vaping, unanimously selected as the best vape pen available by the expert team at vapingdaily.com. The pen is manufactured in Germany, a country with a tradition of engineering precision.
The tank holds up to 2ml of juice and the pen comes with interchangeable 1.0 and .6 ohm coils to handle a diverse range of e-liquids, powered by a USB rechargeable 1500mah battery. The all-in-one integrated tank design makes the XEO Void virtually leak-proof. Nasty, coil-killing, throat-burning dry hits can always be avoided since the tank lights up, allowing you to easily see how much juice is remaining for your vaping session. 
Epic Clouds With VG E-Liquids 
So far we've covered two of the best vape options for discreet, convenient, and general purpose vaping with The Alien Baby and the XEO Void Vape Pen. But what about the former cigar or pipe smoker looking for the ultimate vapor cloud experience? Voluminous aromatic clouds augment the sensuous experience by introducing intense visual and scent elements for the ultimate vaping session. The pursuit of "epic clouds" has become so popular in the vaping world that it's developed into the vaping specialty known today as "cloud chasing".
The cloud chasing pastime has even evolved to a competitive level, but we'll leave the world of high wattage custom-built hardware and specialized competitive vaping devices to the professionals. That's right, vaping now has a professional cloud-chasing class. For our purposes, we'll focus on cloud-chasing for the more typical Sunday morning vapers who are looking to put their feet up and relax with a barrage of flavor, totally immersed in their own personalized voluminous Velvet Clouds.
You can't beat Velvet Cloud's line of rich vapor producing VG e-juices for cloud chasing when the ultimate goal is to blow enormous, dense, aromatic vapor clouds. As the experts at vapingmedia.com point out in their Cloud Chasing Guide, "a cloud chaser needs a VG heavy E-juice because it creates thicker, and denser vape clouds." With those words of wisdom from the vaping professionals, we'll now take a look at some epic cloud producing VG vape mods. 
Lost Vape Box Mods
For the ultimate cloud experience, the best choice is usually a high-power box mod with at least two 18650 batteries. At the top end of the box mod spectrum is the Lost Vape line, designed for professional and high-end vapers, and priced accordingly. Craftsmanship in the Lost Vape line is unsurpassed with OLED displays, touchscreens, software to save and repeat favored vape settings, and stainless steel and leather enhancements which ooze luxury. For those that can afford it, the Lost Vape line can provide a "one and done" purchasing solution. The quality is such that these high-end vaping mods can last a lifetime when properly maintained.
Box mods such as the Triade DNA 250 and Therion DNA 75C are state-of-the-art software equipped devices which offer the ultimate control over temperature, an adjustable wattage range from 1-250, and upgradable "future-proof" software. The Triade DNA 250 is the ultimate cloud beast powered by three 18650 batteries. 
Kanger K Box 200
With the Kanger K Box 200 watt box mod, you can generate supreme clouds with 200 watts of power in a convenient vaping device that fits in the palm of your hand. Measuring in at 84mm x 56mm x 2mm the K Box 200 is the smallest 200 watt mod on the market today, designed to fit easily in a pocket or purse. Power range is adjustable from 7 to 200 watts for the most cloud chasing versatility. The K Box 200 runs on two 18650 batteries with sub-ohm vaping capability that makes it perfect for vaping the VG based e-liquids at Velvet Cloud.
A World of Vaping Choices at Velvet Cloud
Even the best vaping hardware in the world won't make a difference if you choose a bargain basement e-juice! At Velvet Cloud, we have made it our mission to provide the cleanest, purest, vegetable glycerin e-liquids for the ultimate healthy vaping experience.
Our unique blends are all natural, contain zero sugar, and all are gluten and GMO-free. Artificial colors and sweeteners have no place in our blends. We use only USP grade vegetable glycerin to ensure purity. Each signature flavor is formulated to the highest quality standards at our ISO7 certified clean room at Molecule Labs. You can check out our diverse lineup of VG e-liquid recipes here to join the ranks of satisfied customers who look to Velvet Cloud as their first and best vaping liquid source.