A Taste You'll Remember From the Best Vanilla Custard E-Liquid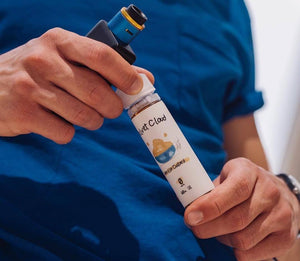 Whether you remember the flavor of vanilla custard from the batches your mom used to make or it was a favorite treat at school, vanilla custard is comforting, tasty, and a dessert that isn't too sweet or too tart. Traditionally used as a pie filling, vanilla custard has actually been around since the middle ages according to Mobile Cuisine. If you happen to love this mouth-watering flavor drenched in the feeling of home, Vanilla Custard from Velvet Cloud is the vape for you!
What Is the Flavor Like?
This vanilla custard vapor from Velvet Cloud is described in our own words as:
A classic flavor that marries the creamy texture of custard and the lighter, sweeter notes of vanilla. Our Vanilla Custard has a warm flavor that's instantly familiar yet wholly unique, with a smooth finish that you'll wish never ended.
This is a just a simple primer on how delectable this vape tastes and why it's one of the best vanilla custard e-juice brands found in the market today.
The Pure and Blissful Flavor of Vanilla Custard
Vanilla custard is made with a combination of milk, eggs, sugar, cornstarch, and vanilla. It sounds simple, but there is a precise way of making it to perfection which requires a little more than simply mixing a few ingredients in a bowl!
The taste is smooth and creamy, and it is perfectly paired with other flavors like fruit - peaches and strawberries come to mind.
Reviewers Love the Taste of This Top Selling

 

E-Liquid
While you may imagine how good this flavor tastes, don't just take our word for it. Check out what others have said about our best vanilla vape.
Vapocalyptic rated it a 5 out of 5 and had this to say:
In the war on custard, I'll be at the front lines for Velvet Cloud, because I would literally drink this if it didn't make me sick (don't do it! never! ever!) It is in my opinion, the perfect execution of Vanilla Custard - flavorful, thick, and not overly eggy, but just the right amount of cream and vanilla blended together, culminating in an almost batter-like taste. The flavor is consistent in every setup I ran it through, equally flavorful, warm, and down right devilish. It was an all

 

day vape ... for about

 

3 hours, and then (sic) it was gone...and I wanted to cry.

 

 

 

The finest blend take on Vanilla Custard I have tried to date. I would recommend this to every custard junkie, every dessert junkie, and even those who swear off dessert liquids (believe me, I know too many who do!) This will convert, turn a head, impress, and command your love and money all in one.
  On Reddit it was rated a 9.5 out of 10 by a user and this was said:  
Very light color out of the box. I loaded it into my pt2 mini and vaped it on my MVP at 7 watts. The flavor was light and creamy vanilla. After letting it steep for a month, the color has darkened considerably and the vanilla has been more pronounced. This flavor is a home run. I have not had other custards to compare it to, but this is a very creamy, sweet vanilla custard that is a joy to vape, especially in my IGO w with a 2 ohm micro nano coil on a bed of cotton at 8 watts.
  As far as reviewers on our site, here are a few comments:
"It's a light flavor that is refreshing on its own, but it's also great mixed with Night Shift or Mewlew's Magic"
"Not overpowering, sweet and smooth"
"Love these flavors. Don't taste generic AT ALL, extremely delicious, and tastes what you'd think it should taste like"
"Love this flavor, nice and warm and rich flavor, my everyday choice"
In fact, this flavor has over 1000 reviews with an average rating of 4.5 out of 5 stars!
Locally Made Artisanal Flavors
No matter which e-juice you choose at Velvet Cloud, every single one of them is handcrafted to the finest of quality. We hand pick the ingredients, just like you would do if you were shopping for the finest meal. We make our products right here in San Francisco and are fortunate enough that they are enjoyed worldwide.
This is a locally made, artisanal, ultra-high VG based e-liquid, including our Vanilla Custard. Everything is cruelty-free, organic, and vegan-friendly, except in the very rare instances where the flavor note would have to be derived from an animal, i.e. honey, cream, etc.
What we don't add is sugar, artificial sweeteners, food coloring, GMOs, preservatives, dairy products, diacetyl, gluten products, or animal byproducts. A portion of our proceeds go to various charities, including wildlife and animal rescue groups and we love our customers.
In fact, we are committed to offering expedited shipping, premium quality e-juice at a price that is competitive, and the best customer service possible.
We offer signature flavors in dessert, fruit, tobacco, menthol, and unflavored choices.
A Vape That Feels Like Home
This best vanilla custard e-juice is perfect as an all-day vape, an after-dinner vape, or a dessert vape. It is scrumptious by itself but for a little extra kick, mix it with one of the fruit flavors like Strawb Gwab or Harvest Berry so you'll get that wonderful burst of flavor alongside the creamy custard.
For any other information or to ask questions about what makes Velvet Cloud one of the best in the business, feel free to contact us so we can help, or check out our FAQS page to learn more about what we offer.
You can get Vanilla Custard by Velvet Cloud in 60ML and 120ML (2x60ML) sizes and the nicotine levels available are 0MG, 3MG, 6MG, and 12MG. Don't forget to join the rewards program too, so that you can save on future purchases! We are sure that you will want more once you try one of our most popular premium dessert choices.