9 Best Fall E-Liquid Flavors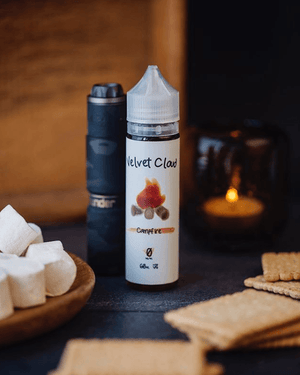 Summer is on its way out, and the changing seasons mean it's finally time to enjoy sweaters, pumpkins, orange and red leaves, and everything else autumn has to offer! Take a seasonal trip headlong into this magical time of year with a host of fitting e-liquid flavors from Velvet Cloud, each one selected to bring your senses into total connection with the essence of cooler weather. Whether you're mixing flavors, alternating throughout the day, or looking for an all-day satisfier, each of our pure VG e-liquids is designed to give you the best vaping experience available.
From those bittersweet, end-of-summer campfires to the sugar-drenched whispers of season's greetings, vapers of all experience levels will enjoy this list of our 7 favorite fall e-liquid flavors!
This Velvet Cloud favorite tastes like a chilly night beside the campfire! Forget about battling mosquitoes and smelling like burnt wood, however-- this irresistibly smoky-sweet s'mores flavor is made with an expert blend of Chocolate, Marshmallow, and Graham Cracker and will have you almost craving the real thing. This premium vapor juice has been brought back by popular demand and is the perfect blend for those looking for a sweet, toasty treat without the hassle!
A robust, aromatic VG e-liquid, this blend tastes just like good tobacco. Hearkening back to the days of pipe tobacco, the Burley Beard is a Flu-Cured Kentucky leaf based creation that is as comforting as a crisp, fall morning. The hearty flavor and simple design of this vapor juice make it the perfect beginner's choice and a great option for mixing with most simple, sweet flavors. 
This multi-mint specialty is the best e-liquid for the autumn weather! Refreshing and diverse, this blend of peppermint, spearmint, other assorted mints, and menthol tastes nothing like tobacco. The light and pure flavor of Mt. Shasta Frost is great for those just starting to try vaping and is an easy complement to the change in seasons. Combine this with chocolate or coffee flavors to really treat yourself right!
Sweet yet complex, White Beard is the essence of fall. One of the best fall e-liquid flavors on this list, notes of delicious butterscotch and custard envelop a medium tobacco taste for a nutty, rich experience. Like a great cup of coffee, White Beard is designed to fill up your senses and pick your mood up in a hurry. This blend is not only light enough for beginners but is also a great choice for an all-day vape that will put you in the mood for crisp leaves and cooler weather. 
This irresistible "white gummy" taste will remind you of the best gummy bears in the bag. Sweet pineapple and tart citrus combine to make this flavor a real treat for the candy lover in you! When the cool arrival of October hits, enjoy an e-liquid fall flavor that's sure to satisfy your sweet tooth without destroying your summer bod. 
Try this wickedly dark coffee blend to add a bit of intrepid boldness to your day. Rich cream and chocolate quietly compliment the dark, nutty taste of premium coffee in this sultry Velvet Cloud pure VG e-liquid. Forget all of the other sub-par coffee variations you've tried and revel in a truly delicious and full-bodied coffee flavor you can vape all day.
A combination of blueberries, blackberries, and Virginia honey-cured tobacco, this rustic-flavored pure VG liquid will conjure images of sweet pies and crackling fires in your mind. The warm base of tobacco sings of comfort and relaxation among the sweet, late summer berry flavor, leaving you wistful and longing for the flannel shirt weather that's soon to arrive. 
Simple, clean, and refreshing, just like fall! Vanilla Custard is a great blend for beginners and is both creamy and warm at the same time. Picture wholesome dollops of cream atop your favorite pie or the hefty whipped topping on a big cup of hot cocoa and let Vanilla Custard take you there! Mix this classic taste with your favorite coffee or chocolate-based blend to get a uniquely delectable dessert experience that reminds you of sweet, after-dinner Thanksgiving memories. 
While summer's warm embrace entices us to try tropical, fruity blends that remind of us of vacations and trips to the beach, the cool touch of fall leads to freshly-baked cookies! Nutty Cookie is not only an extremely popular fall e-liquid flavor, but it tastes just like the sugar, spice, and everything nice you expect out of your favorite cookies. Try this combination of sugar cookie, hazelnut, white chocolate, and macadamia nut for a calorie-free cookie binge that pairs well with coffee, tea, and chilly mornings!
The change from summer to fall comes with its fair share of holiday overlap, so why not indulge a little? This sweet and classic fall e-liquid flavor is the perfect marriage of gingerbread and thick, creamy frosting. It's a subtle reminder that the most wonderful time of the year is right around the corner. Even if you don't secretly jam out to jolly music in October, the wholesome and nostalgic taste of this blend will cure your craving for cookies in a hurry!
Find the Best Fall E-Liquid Flavors at Velvet Cloud
At Velvet Cloud, we aim to revolutionize all levels of your vaping experience, including providing our customers with plenty of options for each product. All of these incredible premium vapor juices are available in varying 0mg, 3mg, 6mg, and 12mg nicotine levels, so you can get exactly what you want out of your e-liquid experience without compromising. Velvet Cloud is dedicated to creating unique and safe blends that won't disappoint your taste buds!
Buy high VG e-liquids with total confidence from Velvet Cloud, and trust our certified ISO7 lab-created micro-batches to provide you with the most satisfying vaping experience you've ever had! We never use artificial colors or sweeteners, and only the most premium vegetable glycerin (or VG) is used as a base for our pure flavors. Ditch the harsh chemicals and experience a truly clean vaping experience today!