Battery Tips For Your Vape Box Mod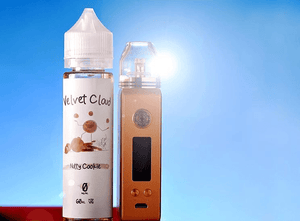 There's just something about vaping delicious high VG e-juice that makes people want to create their own tank and mod kits. Some people even have a special kit or a whole cabinet dedicated to different wicks and coils, tanks and e-juices, and batteries and box mods. Box mods are a particular favorite of the custom vape community because you can not only load any tank you please, but you can also set exactly the right temperature to optimize your favorite e-juice flavors and the exact coils you prefer.
However, box mods are also hell on batteries and only a few rare models are capable of recharging with a USB cable. For most of us, you'll find yourself either using a handful of AAs or three 1060 lithium-ion batteries. And you'll be using a lot of them, especially if you like vaping delicious e-juice all day long like we do.
Needless to say, any enthusiastic box-mod user will find themselves changing out the batteries a lot, and we've learned more than a few tricks along the way. Today, we're here to share what we've learned for new and old box mod enthusiasts out there who are tired of running out of power just when they were looking forward to a big tasty e-cloud.
1) Have 3 Sets of Batteries for Your Favorite Box Mod
The first and best tip we can give any box-mod user is to have three complete sets of batteries. The first (current) set goes into your box mod to power your delicious high-VG clouds. The second set should be kept fully-charged in your pocket or bag so that when your batteries do inevitably run out at an inopportune moment, you can quickly change them without delaying your next cloud for more than a few seconds.
The third set goes into your charger so that you will always have a fully charged set of batteries when you get home or when your second backup set runs out. We highly recommend that you use a small strip of tape on each battery to color-code them so that you always know which full set you're dealing with and can't accidentally mix up charged and uncharged batteries.
You may also want to make sure your charger has a space for 6 batteries at a time so that you can charge two sets at once when you come home having used up both your main and backup batteries.
2) Carry an Extra Charger in Your Laptop Bag
You probably have one primary vape battery charger either at home or on your desk at work (or both if you're lucky enough to work at home). Having a stationary charger is great for when you're living your daily routine, but you also don't want that to be the only charger available for your mod box batteries.
First, consider having a charger anywhere you spend a great deal of time, both at home and at work for instance. And second, carry a portable charger in your laptop bag with your backup laptop power adapter. This will allow you to set up anywhere, from the airport to waiting for a meeting, and charge up your first set of batteries if you've already switched out for the day.
A portable battery charger also makes it more likely that you will not forget a charger when you travel. Because who wants to go on vacation without being able to enjoy their box mod?
3) Watch Out for a Loose Battery Compartment Latch
Mod boxes are an amazing addition to your vaping gear, but there is also a well-known flaw in many similar box mod designs: the battery compartment cover. As it turns out, many box mods have a particular hinge and latch that opens downward and tends to pop open with a light tap. So watch out for batteries wilfully flying out the bottom of your box mod when you least expect it.
While we're sure this design flaw will eventually cycle out of production, currently there are a surprising number of box mods that occasionally drop their batteries onto the table or scatter them over the floor. Particularly if you put your box mod down firmly (tapping the latch) and then pick it up again. Consider yourself warned.
4) Flat Top Batteries are a Better Fit
As box-mod connoisseurs, we have actually found something close to a solution to our favorite mods that have the unfortunately weak battery compartment latches. Flat-top batteries, or flat batteries, create a better fit inside those spring-loaded compartments and are therefore less likely to sproing open at a bad moment. Flat batteries are designed so that the 'plus' side does not have that nubbin that normally sticks out at the end of a battery. You can still quickly tell which side is 'plus' because there is a circular groove where the nubbin would be, but the batteries have an ever-so-slightly shorter profile.
5) Optimize Your Power Settings
Now let's talk about battery life. If you want to avoid changing your batteries more than once in a day, or avoid changing them at all, it's best to optimize your power use so that your box mod consumes as little battery power as possible. Fortunately, the best way to do this is also the best way to make your high VG e-juice taste amazing. All you need to do is optimize your power settings.
Start with your wick or coil. There should be specs on the piece itself or on the website you bought it from indicating the best voltage for that particular wick. Too hot, and you'll scorch the cotton resulting in an unpleasant burnt taste to your vape. Too low and you'll be sacrificing on both flavor and clouds. The great thing about a box mod is that it allows you to carefully tweak your voltage up or down until you get the perfect flavor and temperature. At the optimal point, you'll have the best clouds and the longest battery life.
6) If It Glows, Batteries Will Die Faster
Many of the coolest box mods are awesome because they have glowing elements. There's nothing cooler than vaping in semi-darkness with big delicious clouds and an ominously glowing box mod. However, there's a reason why most glowing box mods only glow for a short time after you push the vape button. Those pretty lights can use up a lot of battery power. 
While it's nice to use your glowing box mod as a cool desk accessory, the longer it glows, the shorter your battery life will be. If you want to optimize your battery life, turn down the glow-time or set your box mod to only glow when you take a tasty hit. But if you're sitting next to a charger full of ready batteries, glow away!
7) Know Your Airline Battery Policies
Finally, box mods to create an interesting challenge for travel. While they are great for keeping in your pocket (big pockets), some airlines are touchy about lithium-ion batteries after certain incidents involving electric skateboards. In most cases, you will be able to take your batteries on the plane with you and in some cases, you may not be allowed to stow lithium-ion batteries in your luggage.
You may be required to take the batteries out of the mod during the flight. Be sure to do your homework on your airline of choice before traveling with your box mod so that you can enjoy a big delicious cloud the moment you step outside on the other side with your luggage.
Get More Great Vaping Tips From Velvet Cloud
There are a lot of different ways to vape and box mods are the ideal way to get the optimal flavor from each one of our perfected high VG flavors. With these battery tricks, you'll be able to vape any time, anywhere, with fully charged batteries and backups to boot. For more great vaping tips and tricks or to discover your new favorite vape flavor, contact us today!