10 Amazing Gift Ideas for Vapers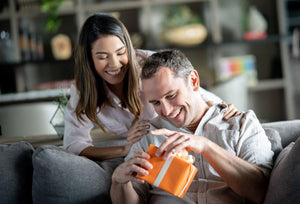 Are you struggling to come up with a cool gift idea for a loved one who likes to vape? If so, don't worry! We understand how frustrating it is to find the right gift, that's why we've curated a list of the top ten items to give that special vaper in your life. Ready to get started? Continue reading to discover some cool gift ideas that will make your loved one jump for joy.
Gift Idea #1: Vape Magazine Subscription
Everyone knows that information is power. If the person you are shopping for enjoys learning about the vaping industry or wants to hear about the latest news and events in the community, you can get them a subscription to a popular vaping magazine.
There are several leading vape magazines available. One of them, Vape News, is known for providing detailed articles about vaping and explaining what's currently going on with state and government regulations. Vape News also has interactive videos and up-to-date information about industry events. You can either sign them up for a free digital subscription to Vape News so they can access everything online or you can order back issues and they will send the magazine to their home.
If you live in the United Kingdom you should check out Vapouround and consider signing them up for an annual subscription. The magazine originally started out as a lifestyle magazine in 2015 but is now a trade publication for vaping.
Gift Idea #2: Vape Starter Kit
A vape starter kit is the perfect gift for someone who has always wanted to vape but doesn't own an e-cigarette. Starter kits are perfect because they are specially designed for beginners so they won't have to worry about anything but learning how to vape.
Gift Idea #3: Air Freshener
One of the best things about vaping is that it can have an amazing smell. However, sometimes those smells can combine with other unsavory odors. You can remedy this by getting them a pack of air fresheners. The products can help them mask the smell of vapor inside their house or car.
Gift Idea #4: Vape Charger
A vape charger is a very useful gift for someone who is always on the go and loves to vape. Find out what device they have and buy them an extra charger or get one that can work with multiple brands. For example, you can buy a box charger as a stocking stuffer if they own a Juul Vape. The device can hold two pods and one device at the same time.
Gift Idea #5: Vape Case
A vape case is a handy gift that can make their lives much easier. They can take it with them anywhere and it's great for hiking, camping and any other outdoor activity. Most vape cases can comfortably hold a vape box mod, batteries and backup e-juice products. They can also use the case to store small tools and electronics. While you're shopping for a vape case, look for one that will comfortably fit many different types of devices.
Gift Idea #6: Vape Juice
Vape lovers can never have enough e-juice, especially if it is a unique or unusual flavor. Nutty Cookie, Harvest Berry, Campfire and our other popular signature flavors make the perfect gift. Velvet Cloud has some of the best premium vape juice with high levels of vegetable glycerin so they can see beautiful, voluminous clouds whenever they exhale.
Gift Idea #7: Vape Conferences and Events
Give your loved one the gift of community by buying them a ticket to an upcoming vaping conference or event. As vaping becomes more popular, the number of events related to the industry are starting to explode. This gift is the perfect way for you to help them meet other people who also share their passion for vaping!
Gift Idea #8: Vape Stand  
Vaping can get messy, especially if they like to build their own mods or make their own coils. However, once they're done making it they should have a place to store it close by in case they want to have another vape session. A vape stand can allow them to proudly show off their device and help them keep their place organized and put together. If possible, look for a vape stand that is customizable and can adjust its size for different builds.
Gift Idea #9: Vape Related Apparel and Accessories
You can also get your loved one some cool swag. For example, you can buy a t-shirt, mug or hat with a funny slogan or image related to vaping. If you can't find any merchandise at major department stores, try online stores like Etsy or smaller smoke shops in your area.
Gift Idea #10: Store Gift Card
If none of the previous ideas work for you a gift card is your ultimate saving grace. Millions of people grab one as a last resort when they can't find the right gift for a friend or loved one. Find out what the name of their favorite vape store is and contact them to see if they have any gift card available for purchase. You can also visit the nearest vape shop in your neighborhood and ask if they offer gift cards.
Shop Velvet Cloud for the Perfect Gift - Premium Vape Juice
We hope our list of the top ten gift ideas for vapers was helpful! If you still are not sure about what to buy or need more help, please contact us today. We'd love to chat with you and give you some additional ideas and recommendations. People love gifts because it can really show how well you truly know someone's personality and tastes. Gifts are also a great way to demonstrate how much you value and appreciate someone who's made an impact on your life. That's why we recommend that you give them our premium high-quality VG e-liquid as a gift since it's just as unique and precious as they are.
Sources:
https://vapemagazine.myshopify.com/collections/vape-magazine-back-issues
https://vapouround.co.uk/product/magazine-subscription
https://velvetcloud.com/collections/front-page/products/nutty-cookie
https://velvetcloud.com/collections/front-page/products/harvest-berry
https://velvetcloud.com/collections/front-page/products/campfire