A Naturally Tasty Experience with Max VG Juice from Velvet Cloud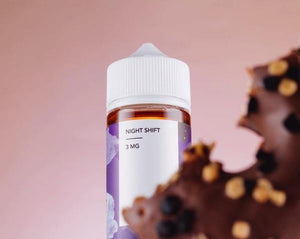 Finding the perfect Max VG juice to vape is now easier than ever. With Velvet Cloud e juice, you know exactly what you are getting in your vape so that you can vape happily with some of the most high-quality e juices around. All Velvet Cloud e juices are crafted by our vapor chef in Portland, Oregon, are vegan-friendly, free from GMO's, preservatives, sweeteners, colors, and are gluten-free. Our fruit flavored e juices are made from high VG e juice which is perfect for someone looking to vape delicious vape flavors who might have allergic reactions to PG-based vape juices. Our premium flavors are made with the perfect ingredients to ensure we offer our customers the best flavors possible. We have a wide selection of different flavors so that everyone can find a flavor to enjoy.
Our Ultra VG juice from our signature fruit collection is perfect for vapers who want to enjoy the mouthwatering flavor of fruit. It's refreshing, it's sweet, and it tastes so delectable, you will think you are sitting poolside with a tall glass of sweet tea or munching on a freshly opened juicy melon. Each flavor is crafted with gourmet fruit juice blends that enhance your senses and create a delicious fruity medley right in your mouth. Our six unique flavors will entice any fruit lover to the max and make your taste buds craving more.
A simple berry medley flavor, Harvest Berry, features the trifecta of berries perfect for the vaper looking for a sweet, tangy experience. This flavor is a fine mix of strawberry, blueberry, and raspberry tied in nicely with a cherry undertone. All of these components are perfect for anyone who wants that sweet berry cloud.
Our royalty vape e liquid flavor is similar to vaping a deliciously sweet wine. At first, this sounds bizarre, but in reality, Catherine the Grape is a one of the best grape flavored e liquids you will try. This flavor is brewed in micro batches to offer your taste buds the best flavor imaginable. Catherine the Grape is unlike any type of e juice flavor you've tried before. Made with a clean VG-base liquid, it gives you that perfect wine-like taste. It's the elite flavor of vaping, imagine the feeling of enjoying a nice glass of wine to wash away the stress of the day without having to actually pour yourself a tall glass. Vape it anywhere, anytime. The sweet yet tart flavor profile pairs a pinot noir grape with a hint of black currant, making this flavor fit for a king or queen.
Some of our other top signature flavors include Melonomenon, which can be compared to taking a sip of fresh fruit punch on a hot summer day and perfectly mixes together the sweet tastes of honeydew, peach, and cucumber. This flavor is both sweet and smooth and offers a refreshing twist on your favorite summer pastimes. Did we mention this tube is perfect to bring to the beach? The medical-grade 30mL tube was created by a lab in Switzerland and has seven layers of high-density polyethylene and aluminum to protect from light and moisture, so don't forget to pack Melonomenon in your bag for your next trip to the beach.
If our fruit collection isn't appetizing enough for you, that is okay. We also offer other signature flavors such as dessert, menthol and tobacco, and unflavored. Don't be afraid to try something new from Velvet Cloud, or just stick to a simple, yet effective unflavored e juice. Our Unflavored vape juice is made right here in the USA and comes in a 120mL glass bottle so that you can have the freedom to add your own flavor or just vape it as it is. Made with Kosher USP 100 percent VG juice, nicotine, and some distilled water, our Unflavored e juice is sweet as it is or ready for some custom mixing by your creative mind. You can also order this flavor with 0MG of nicotine based on your preferences. Order this vape juice for only $25.00, a price you can't beat!
All of our flavors are available in 60mL or 120mL, with the 60mL option available in a single container and the 120mL option available in two 60mL containers. You can also choose from different nicotine levels of 00MG, 3MG, 6MG, or 12MG based on your needs and preferences. Order your vape juice (or multiple vape juices) from Velvet Cloud, today, and don't forget to check out our rewards programs for great rewards to put towards your vaping hobby. We ship all orders within 1-2 days so you can easily start vaping the same week you place your order. It's easier than ever to enjoy our perfectly crafted Max VG juice vape juices. Just browse our options online or give us a call!