5 Vape Friendly Cities and States You Should Visit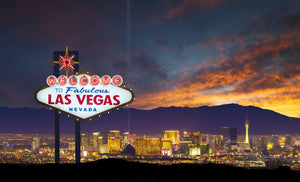 Did you know that your ability to vape is strongly impacted by where you live? Each state has different laws and regulations when it comes to the vaping industry. Although it's technically allowed in many states across the United States, some states still have strict laws that can prevent you from vaping in public places.
Thankfully, there are many cities and states that have welcomed vaping with open arms. So you can be confident that when you visit those areas that you'll be able to freely vape without breaking any laws.
If you are thinking about moving to another city or would just like to go on a road trip, you should know which cities and states are the most vape friendly. Ready to find out? Here's a list of the most and least friendly places for people who love to vape here in the United States.
Beware - Hawaii Has Strict Vaping Laws
Hawaii may be the most sought after vacation destination but it has the strictest vape laws out of all the states! People in the Aloha State are prohibited from buying vaping supplies and other tobacco products until they are 21 years of age or older. You also can't vape in public places or inside private business establishments like restaurants and bars. If you violate any of Hawaii's rules you may be fined or face other consequences.
Vaping Friendly Cities and States
Location #1: Seattle, Washington
One of the best places for vapers to visit is Seattle. You can vape almost anytime and anywhere thanks to the city's strong pro-vaping stance and hundreds of vape shops.  As a result, it's consistently voted one of the best cities for people who love to vape. The area is also home to several politically active vape advocacy groups that are petitioning the federal government to make sure the city continues to embrace vaping. Regardless if you want to vape inside a private lounge, coffee house, nightclub or at a city park, you can freely enjoy your hobby anytime you are in the city of Seattle.
Location #2: Las Vegas, Nevada
Sin City is famous for its luxurious casinos, fine dining options, and live entertainment but it's also a safe haven for vapers. There are no indoor or outdoor restrictions when it comes to vaping in Las Vegas, so almost every casino, hotel, and other business establishments allow guests to smoke and vape. The Las Vegas airport is also vape-friendly, so you can easily enjoy a vape session while you're waiting for your plane at the terminal.
Location #3: Denver, Colorado
Colorado is another state you should visit due to its tolerant pro-vaping laws. Denver has a thriving vape scene with over a hundred vape shops and is home to several vape manufacturers. Although vaping on government property is not allowed, you can still do it in other places. Many private businesses have decided to embrace the vaping community so there's no shortage of restaurants and clubs where indoor vaping is permitted.
Location #4: Virginia Beach, Virginia
The state of Virginia has some of the most relaxed smoking and vaping laws. Virginia Beach is a popular tourist destination with no shortage of vape friendly beaches and restaurants. Vape enthusiasts can also enjoy their hobby in the city's main outdoor auditorium. Regardless if you want to vape on a beautiful beach or inside a hip nightclub, you should consider Virginia Beach the next time you want to travel.
Location #5: Tampa, Florida
There's no way we could not add Florida to this list! The Sunshine State does not currently have any policies, laws, or city codes that prohibit people from using e-cigarettes or vaping. In fact, you can have a quick vape session as soon as your plane lands since vaping is permitted at the Tampa International Airport.
Another benefit is that almost every restaurant, beach and club in Florida allow indoor vaping. So you can easily get a suntan and vape at the same time or try out a new e-cigarette flavor with your meal without any hassle. You can also take your vape pen with you while you shop. It's not uncommon for people to vape as they browse through items while shopping at the West Shore Plaza mall. Tampa is also home to one of the nation's largest vaping conventions, the Vaping Convention Circuit (VCC), so check to see if there will be any vaping events in the area while you are visiting.
In Conclusion
And that's it! Those are the top five vape friendly cities and states in the United States you should add to your list of potential travel destinations. All of the places we mentioned are a prime location for people who love to vape or want to experience what it is like to live or visit an area where vaping is allowed - or even encouraged! Regardless you decide to go to Tampa for spring break or convince your family to go to Denver for the holidays, we don't think you will be disappointed. Each of the cities on our list has a welcoming atmosphere and lively vaping community. We can only hope that more states will begin to pass laws that embrace vaping in the near future.
Stock Up On Our Premium High VG E-liquid
Aria and Julia founded Velvet Cloud in 2011 because they were passionate about making one-of-a-kind premium high VG e-liquid. Although our business originally opened its doors in the San Francisco Bay Area, we decided to move to Portland, Oregon last year to join the area's thriving community of local small businesses.
Now after just a few years later, Velvet Cloud is one of the most popular e-liquid brands on the market! We only make e-liquid with unique flavors. Many of our e-juice products like Harvest Berry and Frosted Gingerbread have even built up a huge cult following. Shop with us if you are looking for a delicious vape juice that's vegan and doesn't have any unnatural sweeteners or artificial coloring.